THINGS HAVE CHANGED. BUT WE'RE STILL HERE AND WILL KEEP YOU UPDATED!
212.355.7823   or   info@gingoldgroup.org
Our FREE Online Readings!
Shaw's CANDIDA
FREE! A benefit performance for The Actors Fund
Stars In The House
To find us on YOU TUBE until MAY 24:
CLICK HERE!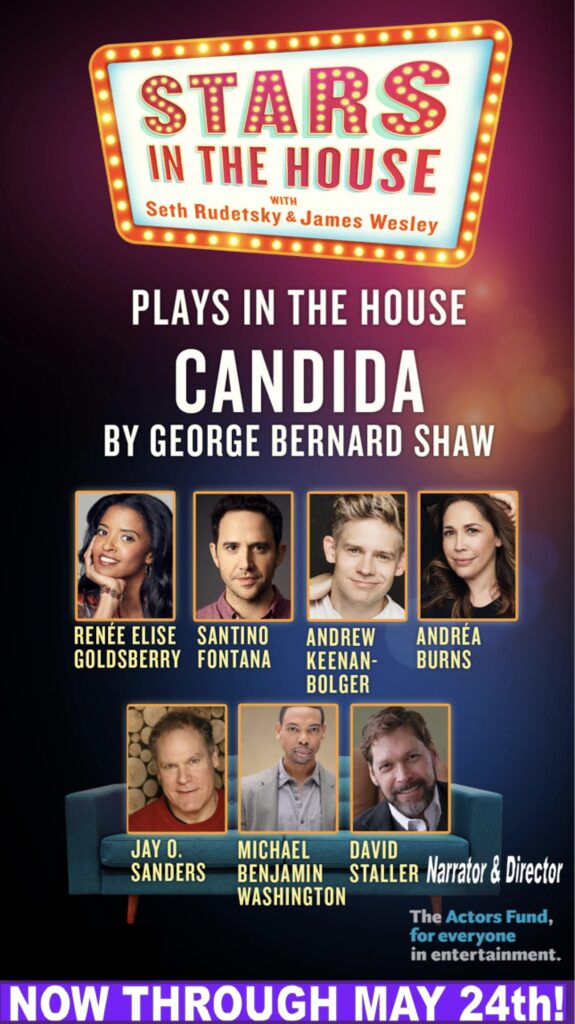 CANDIDA: Renée Elise Goldsberry
MORELL: Santino Fontana
MARCHBANKS: Andrew Keenan-Bolger
PROSSY: Andréa Burns
BURGESS: Jay O. Sanders
LEXY: Michael Benjamin Washington
Narrator and director: David Staller

Our Full Productions
Our 2020 Off-Broadway production will by Shaw's rarely seen swashbuckling adventure comedy set in New Hampshire during the American Revolution, The Devil's Disciple.
GTG's 2019 Off-Broadway production was Shaw's Caesar and Cleopatra, which hadn't been seen in New York City in over 40 years!  For more information, click here.
Project Shaw
These are unique Script-In-Hand performances with many of our finest actors.
Each month finds us at Symphony Space to perform play by G.B. Shaw and other activist playwrights. All events are followed by lively post-show discussions with the director and cast of each performance.
2020 Season:
Seeing Clearly Through Art
All readings begin at 7 p.m.
All titles are subject to change.
All plays in this series are presented in a concert-reading format at the Leonard Nimoy Thalia Theater at Symphony Space, 2537 Broadway @ 95th Street.
Shaw Club
We're still planning our 2019 free monthly discussion group, and will list its dates here soon!
All Shaw Club discussions happen at 520 8th Avenue, 3rd Floor (between 36th and 37th Streets) from 6:00 – 7:30 pm.
To make a reservation, call 212.355.7823 or email 
info@gingoldgroup.org.
Special Events
Check back for updates on our other special events, including our annual Golden Shamrock Gala, the Shaw New York Festival, and events connected to our new works and education programs.