THINGS HAVE CHANGED. BUT WE'RE STILL HERE AND WILL KEEP YOU UPDATED!
212.355.7823   or   info@gingoldgroup.org
Our FREE Online Readings!
UP NEXT!  FREE!
Shaw's high-flying comedy
MISALLIANCE
SATURDAY  25  JULY  2pm
A BENEFIT FOR THE NAACP!
Just click:  Stars In The House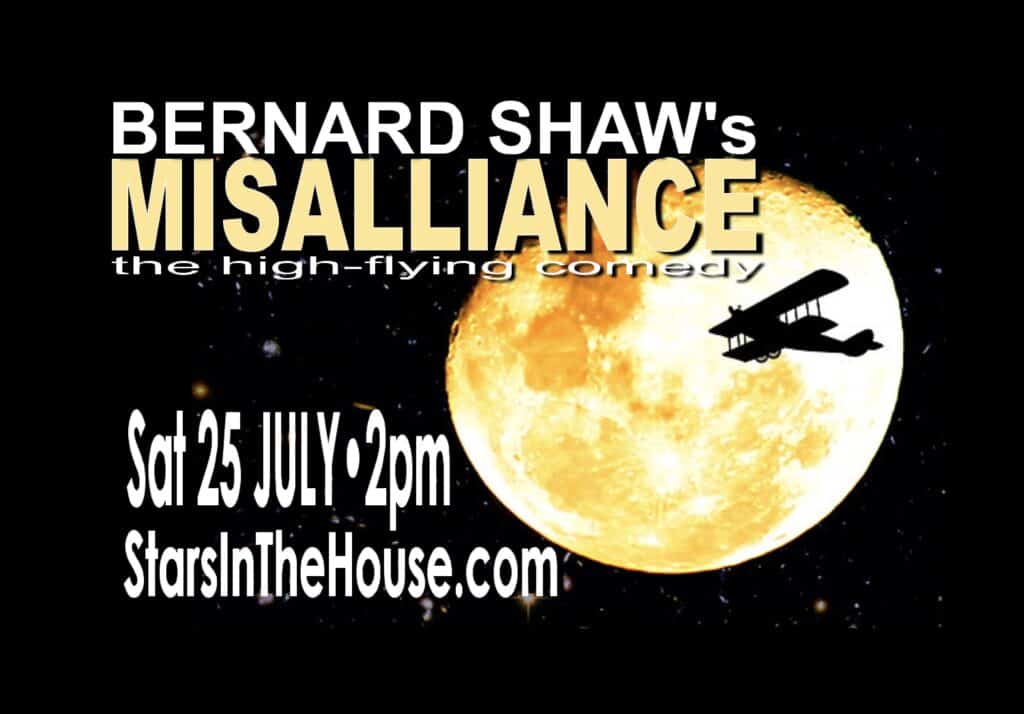 In Misalliance, the high-flying comedy, Shaw examines a variety of mating combinations. The social and the political collide with the romantic and the practical; the aristocrats take on the middle classes and vice versa, and-to top it all off there's a glamorous lady aviatrix and a tipsy gun-toting socialist loose on the grounds! This is one of Shaw's most beloved of plays.
Our Spectacular Cast!
(All Pending)
Johnny Tarleton …
Bentley Summerhays …
Lord Summerhays …
Hypatia Tarleton …
Mrs. Tarleton …
John Tarelton …
Joey Percival …
Lina Szczepanowska …
Julius "Gunner" Baker …
Shaw's MRS. WARREN'S PROFESSION
Was performed on Saturday, June 20, 2pm
FREE! A benefit for the NAACP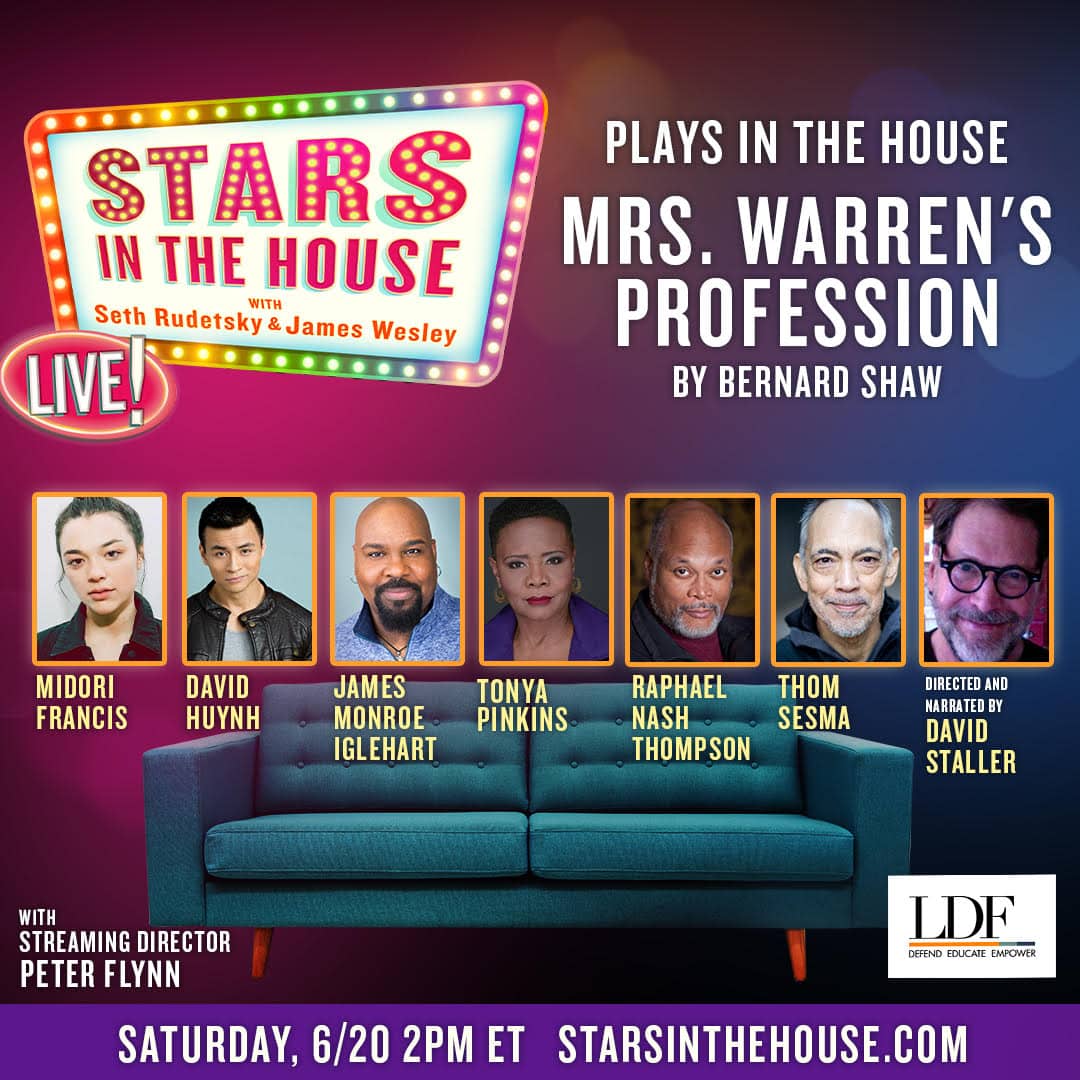 Our amazing cast:
Tonya Pinkins…Mrs. Kitty Warren
Midori Francis…Vivie Warren
David Huynh…Frank Gardner
James Monroe Iglehart…Reverend Samuel Gardner
Thom Sesma…Praed
Raphael Nash Thompson…Sir George Crofts
MRS. WARREN'S PROFESSION by Bernard Shaw, 1895. The struggle for equal rights has always been the hot topic for Shaw. This early play of his was considered so incendiary in its time that it was banned for years in Britain and, when it finally debuted here in New York City, the entire cast was arrested on opening night. It's not the plot point of prostitution that offended the officials, but the notion that a woman would struggle to create a successful life for herself in spite of the constraints set against her by law and society, and thrive without apology. With this, our third free online presentation, we have a dream cast to bring you this highly entertaining story involving a mother and daughter who, for the first time, reveal their true self to each other. The issue of women's rights permeates all of Shaw's work and perhaps never, before or since, has the topic been more explosively examined.
Our last event:
Shaw's CANDIDA
FREE! A benefit performance for The Actors Fund
Stars In The House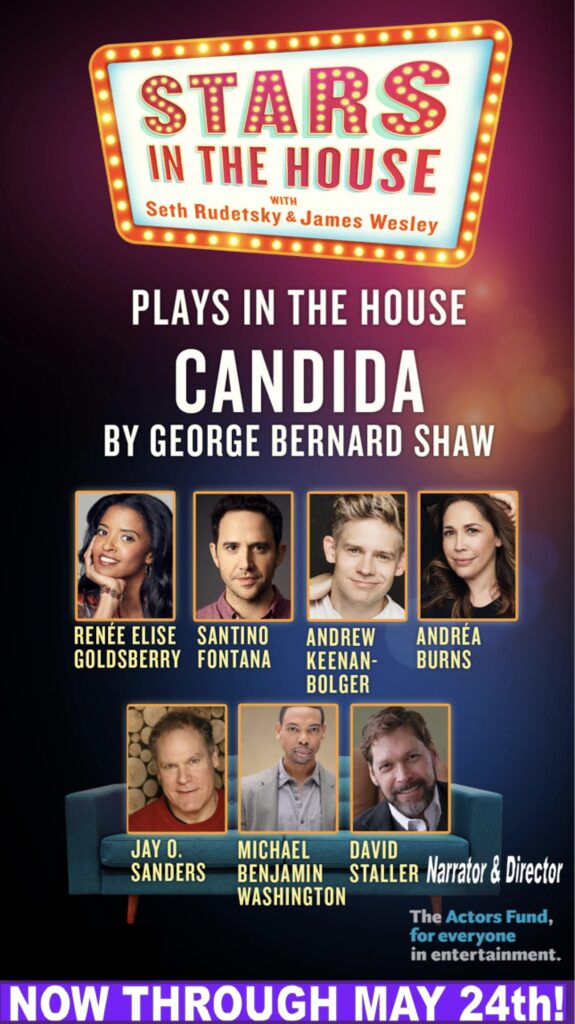 CANDIDA: Renée Elise Goldsberry
MORELL: Santino Fontana
MARCHBANKS: Andrew Keenan-Bolger
PROSSY: Andréa Burns
BURGESS: Jay O. Sanders
LEXY: Michael Benjamin Washington
Narrator and director: David Staller

Our Full Productions
Our 2020 Off-Broadway production will by Shaw's rarely seen swashbuckling adventure comedy set in New Hampshire during the American Revolution, The Devil's Disciple.
GTG's 2019 Off-Broadway production was Shaw's Caesar and Cleopatra, which hadn't been seen in New York City in over 40 years!  For more information, click here.
Project Shaw
These are unique Script-In-Hand performances with many of our finest actors.
Each month finds us at Symphony Space to perform play by G.B. Shaw and other activist playwrights. All events are followed by lively post-show discussions with the director and cast of each performance.
2020 Season:
Seeing Clearly Through Art
All readings begin at 7 p.m.
All titles are subject to change.
All plays in this series are presented in a concert-reading format at the Leonard Nimoy Thalia Theater at Symphony Space, 2537 Broadway @ 95th Street.
Shaw Club
We're still planning our 2019 free monthly discussion group, and will list its dates here soon!
All Shaw Club discussions happen at 520 8th Avenue, 3rd Floor (between 36th and 37th Streets) from 6:00 – 7:30 pm.
To make a reservation, call 212.355.7823 or email 
info@gingoldgroup.org.
Special Events
Check back for updates on our other special events, including our annual Golden Shamrock Gala, the Shaw New York Festival, and events connected to our new works and education programs.