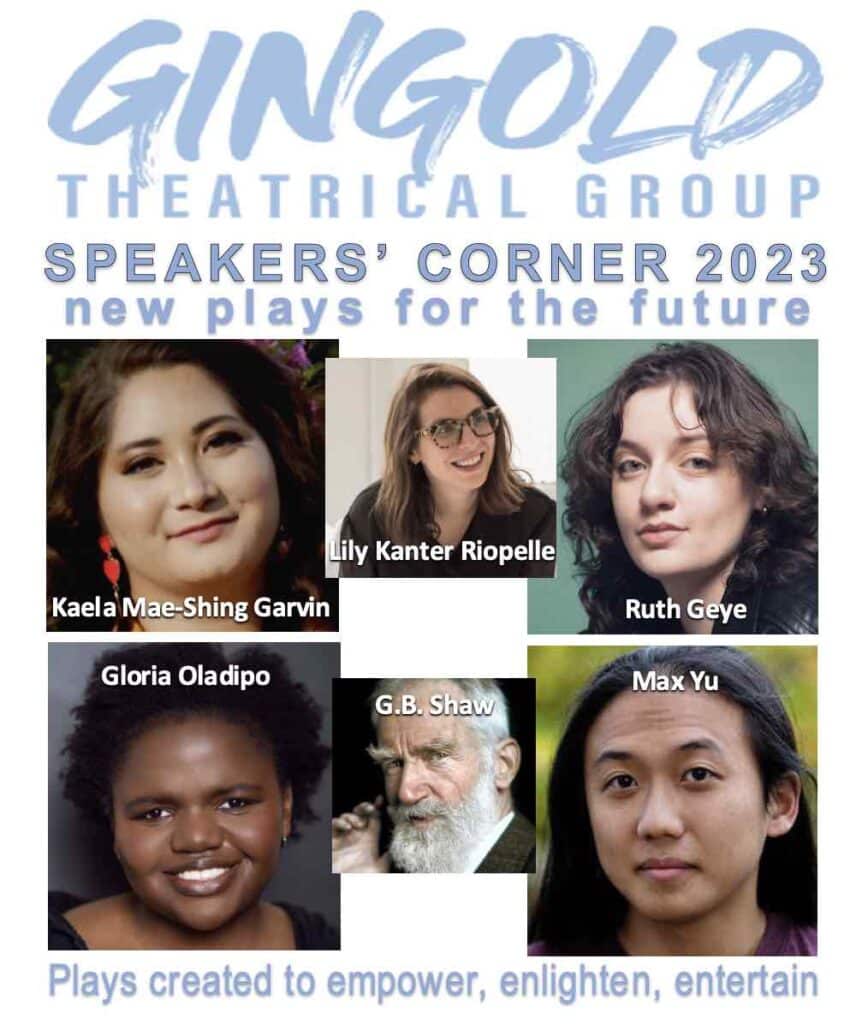 THE 2023-24 SPEAKERS' CORNER NEW PLAY COHORT
INCLUDING: KAELA MAE-SHING GARVIN, RUTH GEYE, GLORIA OLADIPO, MAX YU
LED BY GINGOLD'S DIRECTOR OF NEW WORKS LILY KANTER RIOPELLE

THERE IS NO CHARGE TO ATTEND.
PRESENTATIONS HELD AT
520 8TH AVENUE
3rd FLOOR
Gingold Theatrical Group (David Staller, Artistic Director), now in its 18th Season, is proud to announce that Kaela Mae-Shing Garvin, Ruth Geye, Gloria Oladipo and Max Yu have been selected for GTG's Speakers' Corner New Play Development Program for the 2023-24 season. These four writers have developed works in response to Shaw's Arms and the Man.
Named after the corner of London's Hyde Park where George Bernard Shaw and other political speakers have delivered speeches since 1855, GTG's Speakers' Corner brings together four writers each year who have spent the year exploring a specific Shaw play and writing individual new plays in response to that text and Shaw's forward thinking humanitarian ideals.
The group is led by GTG Director of New Plays, Lily Kanter Riopelle, a producer and director specializing in new play and musical development, community-driven projects, and arts education. In addition to serving as Gingold Theatrical Group's Director of New Plays, Lily is a Brooklyn-based director of new plays, musicals, and reimagined classics. She is an alumna of Clubbed Thumb's and Manhattan Theatre Club's Directing Fellowships and the Williamstown Theatre Festival's Directing Corps, a member of the Lincoln Center Theater Directors Lab, and a New Georges Affiliated Artist. She has associate or assistant directed on Broadway, the Oregon Shakespeare Festival, the Williamstown Theatre Festival, and others. She is an associate member of SDC. Lily is a founding co-artistic director of Two Headed Rep, a company that commissions new plays written in response to classics and produces the old and new works in rep. She studied Theatre and Computer Science at Williams College and attended the National Theatre Institute's Directing Program. When she's not directing plays, Lily spends her time building web applications and making wheel-thrown ceramics out of a community studio in Brooklyn.
"These four exceptional playwrights bring their unique perspectives, voices, and visions to Speakers' Corner," said Artistic Director David Staller. "We are inspired by their collective compassion and humor as we hone our communal digital space for new play development. GTG's work inherently acknowledges our connection to the generations that came before us, and the experiences of those that follow. It's true a thrill to anticipate how this group of inquisitive creators and arts activists will interpret this moment in conversation with Shaw and his work."
Speakers' Corner members have met bi-monthly over the past year, concluding this December with the opportunity to work with directors and actors in an AEA Approved 29-hour workshop. The workshop will end with a public presentation of their plays. Each presentation, open to the public, will take place at 7pm at 520 8th Avenue. Extremely limited seating so reservations required: RESERVE HERE
Speaker's Corner participants below – hover over and click on the icon for full bio.
---
More information on the presentations can be found below:
---
Call Me Comrade
By Max Yu
Directed by Bryn Herdrich
Presented on December 7 at 7pm
Set in Wuhan during the Cultural Revolution, Call Me Comrade is the story of a daughter who denounces her father, leading him to a plotting a revenge that adheres to the political correctness of the era.


I Wanna Kill, Annie G
By Gloria Oladipo
Directed by Maya Davis
Presented on December 8 at 7pm
16-year-old Annie Gadson is threatened by the affable presence of orphan Anne Shirley, a white 16-year-old who is accidentally adopted by the Black Gadson family to care for the family's land. In a wayward attempt to fit in with the Gadsons, Anne begins to appropriate Black culture. The humorist romp I Wanna Kill, Annie G asks: can Annie G withstand Anne's 'culture vulture' ways or will whiteness win (again)?
How Can I Help You?
By Ruth Geye
Directed by Carsen Joenk
Presented on December 12 at 7pm
Claire, a freshly hired dental receptionist, has been called into the office on her day off to accommodate a 102-year-old Holocaust survivor with a cracked tooth and a love of Wagner. Dr. Meyer and Dr. Meyer are out on the island for the weekend, and their son (Dr. Meyer) has been left in charge.
Ping Pong Play
By Kaela Mei-Shing Garvin
Directed by Benita de Wit
Presented on December 13 at 7pm
During a 2001 table tennis tournament, Yining and Anjali become fast friends. Ping Pong Play non-chronologically follows two Asian femmes' lifelong friendship as they play the sport live, try to maintain their connection, and grow through major life and world changes over eight decades, exploring how macro structures affect micro interpersonal relationships.
---
For more information about Speakers' Corner Writers Group and all the projects of Gingold Theatrical Group, including the acclaimed Project Shaw, call 212-355-7823, email info@gingoldgroup.org, or visit online at www.gingoldgroup.org.
Speakers' Corner
Named after the corner of London's Hyde Park where Shaw and other political speakers have delivered speeches since 1855, Gingold's Speakers' Corner brings together a small group of playwrights who spend one year exploring a specific Shaw play and writing new work in response to that text and Shaw's precepts. Plays may continue their development through a multi-phase process with Gingold.
PLEASE NOTE:
Gingold accepts
no unsolicited manuscripts in any form,
nor do we present or develop any works
not initiated by this program.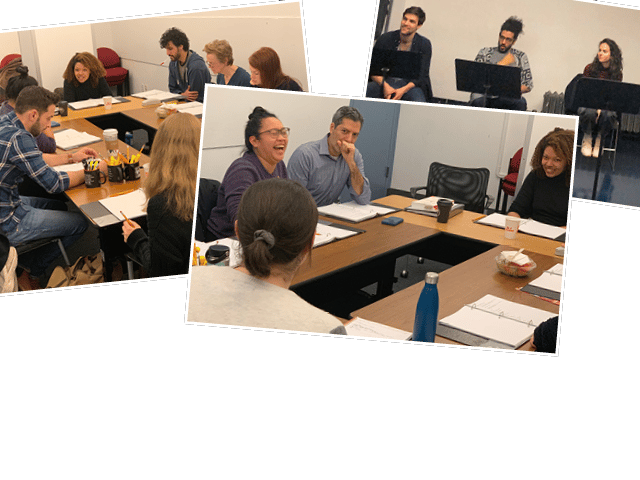 Gingold only produces new plays developed through the Speakers' Corner program.
Applications for next season's Speakers' Corner are open.
PLEASE PUT YOURSELF ON THE MAILING LIST FOR UPDATES:
info@gingoldgroup.org
The program's namesake, Speakers' Corner in London's Hyde Park, was designated as an official safe place where anyone could offer their own beliefs, opinions, and treatises with no fear of arrest. Along with many of his time, Shaw regularly used this location as an opportunity to openly communicate with the general public who may not have been able to afford going to the theatre.
Gingold's Speakers' Corner member writers read and discuss a specific play by George Bernard Shaw before responding through targeted writing prompts. The writers' new works needn't be commentaries on Shaw or adaptations of Shaw's work, but original works inspired by the ideas sparked by reading and discussing the initial Shaw play as a cohort. The cohort then spends the remainder of the year expanding these ideas into new plays.
At bi-monthly meetings, writers share their work and receive constructive feedback from one another and from members of Gingold's artistic staff. The goal, ultimately, is to develop a play that will be fully produced as part of the Gingold future seasons.
"The man who writes about himself and his own time is the only man who writes about all people and about all time."
— GBS