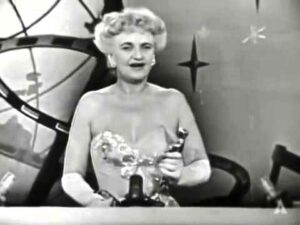 HERMIONE GINGOLD
(December 9, 1897 – May 24, 1987)
Hermione Ferdinanda Gingold was an English actress known for her sharp-tongued, eccentric persona, an image enhanced by her sharp nose and chin, as well as her deepening voice, a result of vocal nodes which her mother encouraged her not to remove.
She appeared on stage, on radio, in films, on television, and in recordings. First appearing on stage in 1909, she was originally a coloratura soprano and performed in Shakespearean dramas. The unexpected hilarity she inspired led her to the musical stage. In the 1930s, her quirky, ribald comedic sense became famous through musical revues.
After moving to the United States in 1951, Gingold became a great success there as well, particularly in the films GIGI, BELL BOOK AND CANDLE, and THE MUSIC MAN and on Broadway in A LITTLE NIGHT MUSIC.
She was David Staller's godmother and a great friend. Gingold Theatrical Group is his tribute to her and her passionate belief in the theatre as an activist means of socio-political change for the better.





Hermione Gingold, actress, playing guitar on the set of a movie, with birds perched upon her head and end of her guitar. — Image by © Bettmann/CORBIS