FRIDAY 17 MARCH




6:00-7:30 pm EST


for a virtual open mic with
GINGOLD THEATRICAL GROUP
and an ALL-STAR GROUP OF ACTORS!
Our participants will present what they fancy:
a poem, an excerpt,
a monologue, a saying or quote,
a saucy limerick, a song,
or a toast to life and to the future!
Shaw, Yeats, Wilde, Joyce, Friel, Beckett, Keane,
O'Brien, Johnston, Edgeworth, Heanèy,
Lady Gregory, Goldsmith, Moore, etc.

Any Irish Writer!
Not Irish? Not a problem.
On St. Pat's, we're ALL a little Irish.
This is an online party.
Not a performance. Not a fundraiser.
Just a chance for us all to raise a glass
and be 'together'.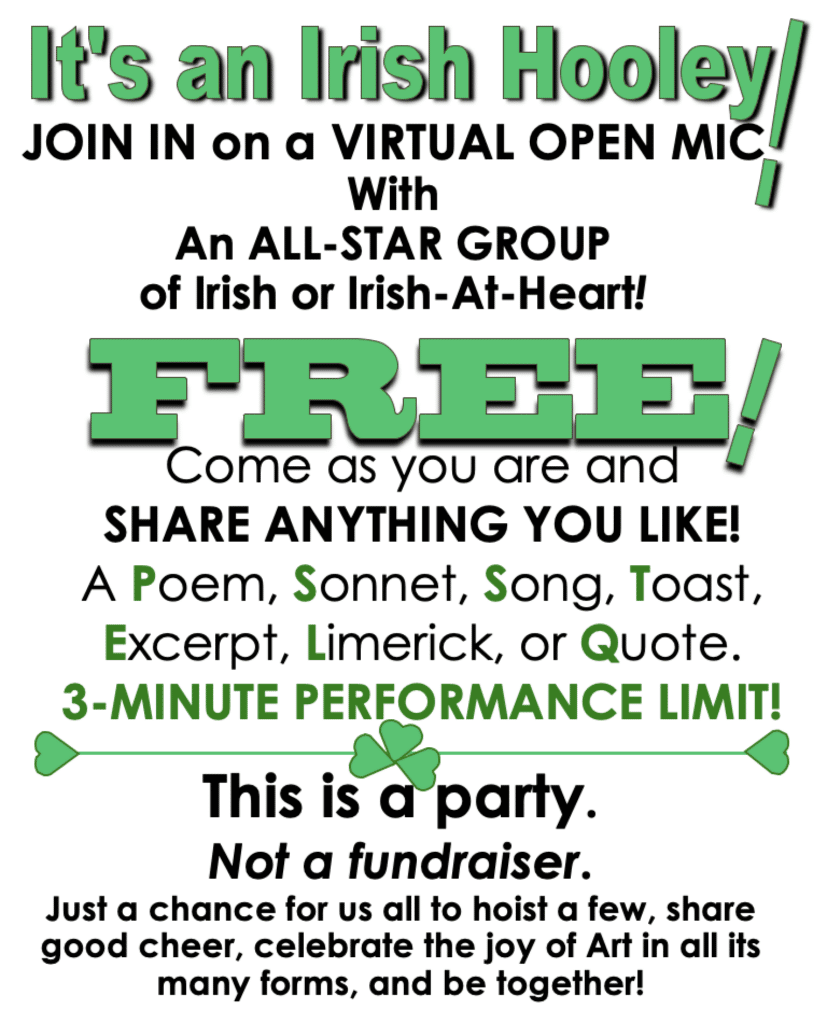 LOOKING FOR POEM IDEAS? GREAT!
IRISH POETS LINKS:
SEAMUS HEANEY
https://www.poetryfoundation.org/poets/seamus-heaney
WILLIAM BUTLER YEATS
https://www.poetryfoundation.org/poets/william-butler-yeats
EAVAN BOLAND
https://www.poetryfoundation.org/poets/eavan-boland
PATRICK KAVANAGH
https://www.poetryfoundation.org/poets/patrick-kavanagh
THOMAS MOORE
https://www.poetryfoundation.org/poets/thomas-moore
MEDGH McGUCKIAN
https://www.poetryfoundation.org/poets/medbh-mcguckian
SAMUEL BECKET
https://www.poetryfoundation.org/poets/samuel-beckett
CECIL DAY-LEWIS
https://www.poetryfoundation.org/poets/cecil-day-lewis
LADY JANE WILDE
https://mypoeticside.com/poets/lady-jane-wilde-poems
PAULA MEEHAN
https://www.poetryfoundation.org/poets/paula-meehan
VONA GROARKE
https://www.poetryfoundation.org/poets/vona-groarke