Gingold's Irish
Poetry Slam 2022!
We had a great time!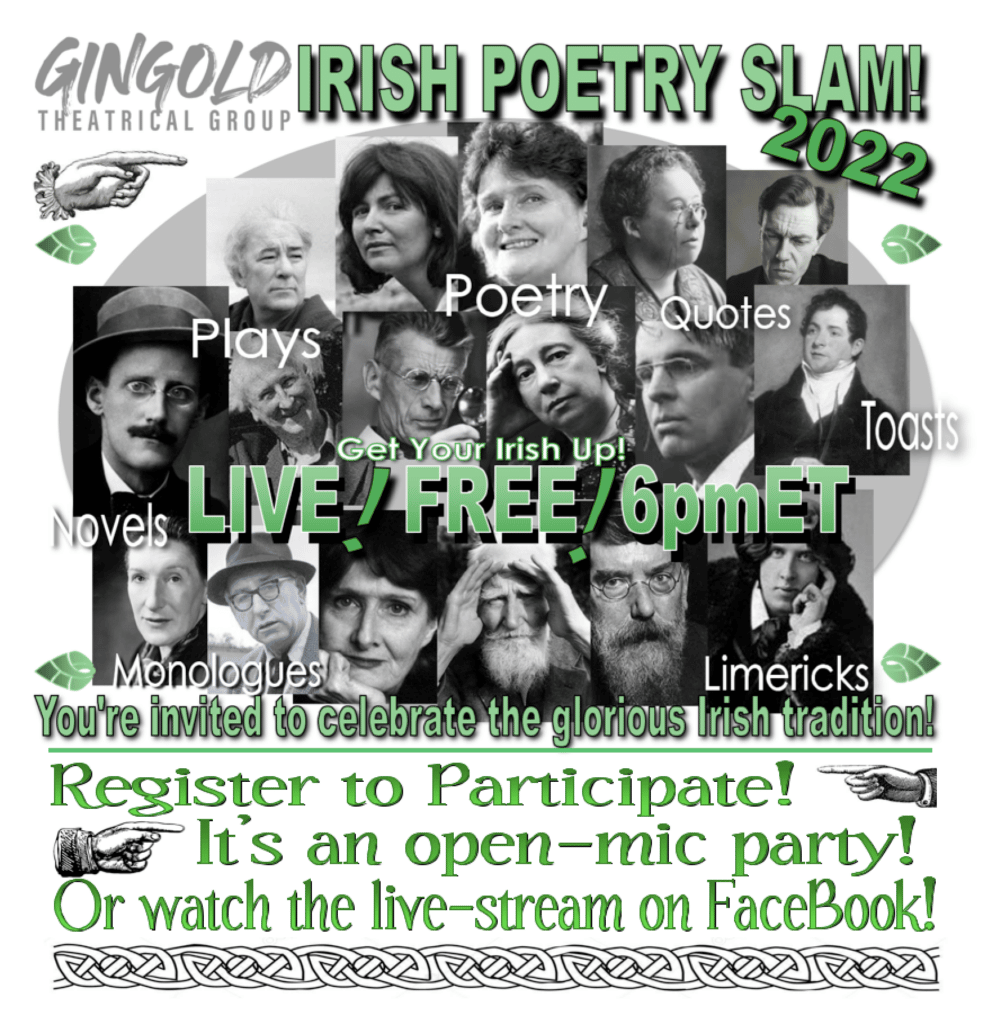 Ordinarily, we'd be having our annual Golden Shamrock Gala on the 17th, St. Patrick's Day and all, but…nope.
SO: we invited you to share your favorite works by Irish writers.
And you did! poems, excerpts, monologues, sayinsg, songs, and toasts!
Each participant need prepared no more than three minutes.
Shaw, Yeats, Wilde, Joyce, Beckett, Keane, O'Brien, Johnston, Edgeworth, Heanèy, Lady Gregory, Goldsmith, Moore, etc.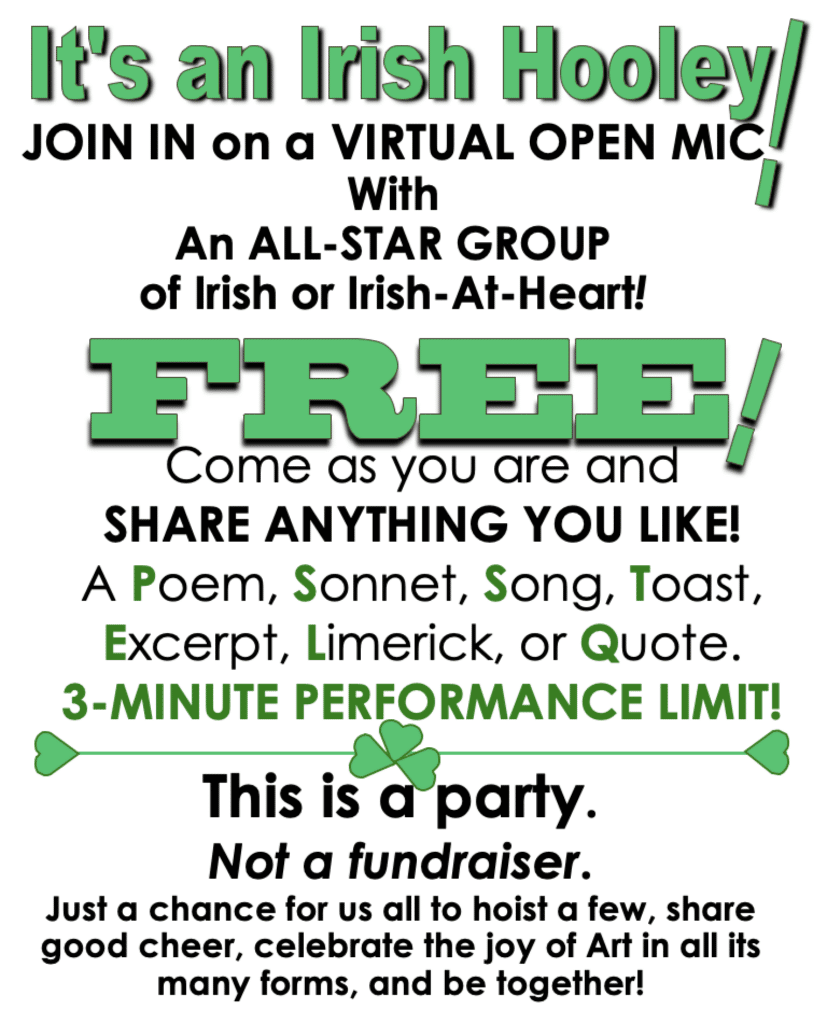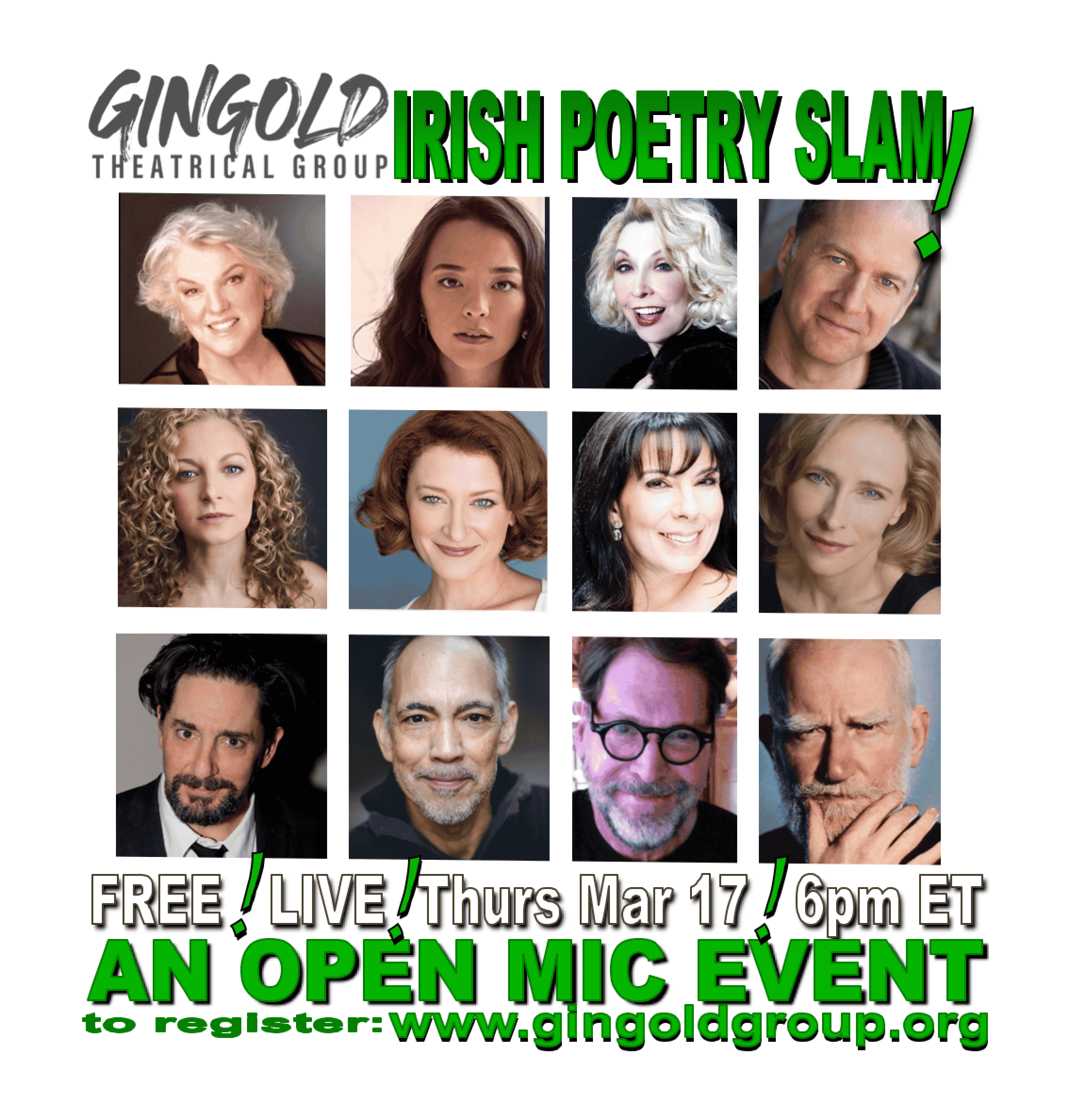 LOOKING FOR POEM IDEAS? GREAT!
IRISH POETS LINKS:
SEAMUS HEANEY
https://www.poetryfoundation.org/poets/seamus-heaney
WILLIAM BUTLER YEATS
https://www.poetryfoundation.org/poets/william-butler-yeats
EAVAN BOLAND
https://www.poetryfoundation.org/poets/eavan-boland
PATRICK KAVANAGH
https://www.poetryfoundation.org/poets/patrick-kavanagh
THOMAS MOORE
https://www.poetryfoundation.org/poets/thomas-moore
MEDGH McGUCKIAN
https://www.poetryfoundation.org/poets/medbh-mcguckian
SAMUEL BECKET
https://www.poetryfoundation.org/poets/samuel-beckett
CECIL DAY-LEWIS
https://www.poetryfoundation.org/poets/cecil-day-lewis
LADY JANE WILDE
https://mypoeticside.com/poets/lady-jane-wilde-poems
PAULA MEEHAN
https://www.poetryfoundation.org/poets/paula-meehan
VONA GROARKE
https://www.poetryfoundation.org/poets/vona-groarke