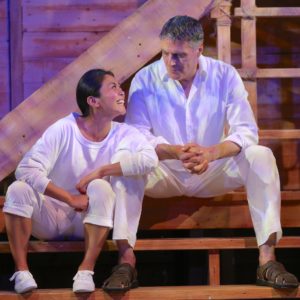 CAESAR & CLEOPATRA
By Bernard Shaw
Directed by David Staller
Off-Broadway at Theater Row
410 West 42nd Street at 9th Avenue
September 3 – October 12, 2019
TOTAL RUNNING TIME IS TWO HOURS, which includes the interval.
GTG's 2019 production features Shaw's scintillating, provocative and almost historical Caesar & Cleopatra, which hasn't been seen in New York City in years!  This amusing take on the actual meeting of these two epic personalities promises to sizzle — and we can't wait to share it with you!
For more information and sponsorship opportunities, contact GTG at 212.355.7823 or info@gingoldgroup.org
Read CAESAR & CLEOPATRA
Read about CAESAR & CLEOPATRA
One of Shaw's most famous, this remarkable comedy hasn't been given a full NYC production in over 40 years! As an early draft of the Eliza/Higgins relationship in Shaw's PYGMALION, this highly entertaining play boldly addresses women's rights, gender roles, empowering the disenfranchised, and being an active and contributive member of the community. In this delightful fantasy, Shaw dares us to imagine how theatrically magical the past might have been!!
It's a crackling script that we've been aching to share with you and now, at last, we're seizing the chance!
GET YOUR TICKETS NOW!
212-947.8844
or the THEATRE ROW BOX OFFICE
410 West 42nd Street
Phone or write with questions! 212.355.7823 / info@gingoldgroup.org
OUR C&C CAST:
Caesar … Robert Cuccioli
Cleopatra … Teresa Avia Lim
Ftatateeta … Brenda Braxton
Rufio … Jeff Applegate
Britannus … Jonathan Hadley
Pothinus … Rajesh Bose
Apollodorus … Dan Domingues
OUR C&C TEAM:
Brian Prather…Set
Tracy Christensen…Costumes
Jamie Roderick … Lights
Frederick Kennedy…Sound
April Ann Kline … Production Stage Manager
Kate Mandracchia … Assistant Stage Manager
Cate DiGirolamo … Production Manager
Liam Prendergast … Assistant to the Director
Sydney Moss … Wardrobe Supervisor
Theo Campbell … Assistant to the Costume Designer
David Gersten & Associates, press representation
Daryl Roth Advertising, marketing team