Gala
The Golden Shamrock Award
Gingold Theatrical Group's 2020 Golden Shamrock Gala for Monday, March 16 HAS BEEN CANCELLED.
WE WILL BE RESCHEDULING THIS EVENT FOR MAY OR JUNE OF THIS YEAR. STAY TUNED!
Dear Friends,
After careful deliberation over the risks posed by COVID-19, along with the recently declared state of emergency by the State of New York, Gingold Theatrical Group has made the difficult decision to postpone our March 16th Gala.
Our primary focus is the health and safety of our guests, families, honorees, partners, volunteers, community, and team. We are looking to reschedule and will be working on potential dates. We apologize for the inconvenience, and we will update you over the next few weeks with more details about our future date.
All of us at Gingold are disappointed not to have the opportunity to celebrate Maryann Plunkett, Jay O. Sanders, and Ethan E. Litwin on Monday, but we're viewing this as a pleasure deferred.
Please contact us for more information! 212.355.7823 / info@gingoldgroup.org
With healthy good thoughts from all of us at Gingold.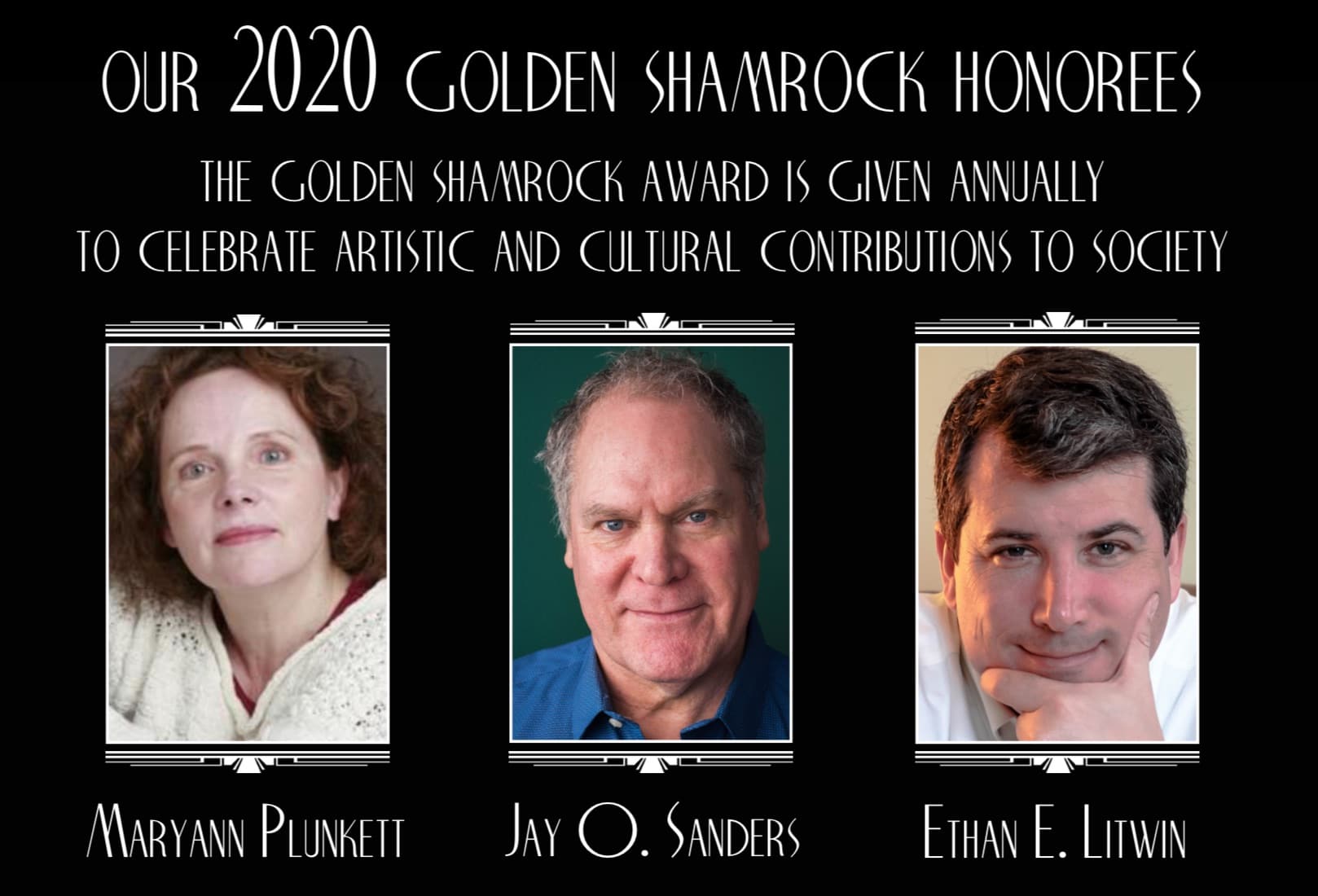 Each year, Gingold Theatrical Group celebrates Shaw's humanist ideals with our Golden Shamrock Gala.  Held on St. Patrick's Day in honor of Shaw's Irish roots, the Golden Shamrock Gala is where we present the Golden Shamrock Award in recognition of artistic or cultural contributions to society.
Featuring a sparkling cocktail hour and delectable meal, a silent auction with lots that have included rare collectibles, Broadway tickets, spa vouchers, fine wines and more, the Golden Shamrock Gala is an event not to be missed!
This year we have three wonderfully compelling honorees.
For more information:
phone 212.355.7823 or write to info@gingoldgroup.org
Recipients of the Golden Shamrock Gala Award
2020 — Maryann Plunkett, Jay O. Sanders, Ethan E. Litwin
2019 – Stephen Schwartz and Pamela Singleton
2018 – Martha Plimpton and Tom Viola
2017 – Tyne Daly
2015 – Kate Mulgrew and Kenneth Lonergan
2014 – Anita Jaffe and Charles Busch
2013 – Judith Ivey and Robert Osborne
2012 – Terrence McNally and Brian Murray
There is no sincerer love than the love of food.
— GBS