BERNARD SHAW's
ARMS AND THE MAN
WE HAVE CONCLUDED OUR HIGHLY SUCCESSFUL LIMITED RUN!
THANK YOU TO ALL WHO JOINED US!
Theatre Row's THEATRE TWO
410 West 42nd Street
New York City
Between 9th and 10th Avenues
From October 17th through November 18th.
ARMS AND THE MAN:
Arms and the Man by Bernard Shaw is one of Shaw's most enduringly popular comedies. The plot follows a hunted soldier who, seeking refuge in a young lady's boudoir, starts in motion a series of highly engaging and unlikely comedic events. His unusual philosophies about life in general open up a world of thought she'd never previously entertained–certainly not with her dashing war-hero fiancée who also arrives unexpectedly. This early work of Shaw's is a sparkling examination of romance, sex, love, negotiated relationships, political maneuverings, war, and hope.
ARMS AND THE MAN cast
SHANEL BAILEY … Raina Petkoff
DELPHI BORICH … Louka
BEN DAVIS … Major Sergius Saranoff
KESHAV MOODLIAR … Captain Bluntschli
THOMAS JAY RYAN … Major Paul Petkoff
EVAN ZES … Nicola
KAREN ZIEMBA … Catherine Petkoff
Understudies:
MAZVITA CHANAKIRA
RENÉ THORNTON, JR.
MATTHEW ZIMMERMAN
Director … David Staller
Production Stage Manager … April Ann Kline
Assistant Stage Manager … Jade Doina
Set Designer … Lindsay Genevieve Fuori
Costume Designer … Tracy Christensen
Lighting Designer … Jamie Roderick
Sound Designer … Julian Evans
Property Designer … Emmarose Campbell
Production Manager … Allie Posner
Assistant to the Director … Logan Gabrielle Schulman
Technical Director … Sam Spear
Assistant Costume Designer … Ariel Kregar
Wardrobe Supervisor … Karine Ivey
Hair Design … Cassie Williams
Casting … Stephanie Yankwitt and Nia Smith of tbd Casting Co.

Marketing … Kevin Sprague, Studio Two
"The world is not such an innocent place as we used to think!"
READ THE PLAY: Click Here
1 Hour 45 Minutes with interval
What does the title refer to? Click HERE to read Virgil's Aeneid and note the first line.
FROM DIRECTOR DAVID STALLER
WHY ARMS AND THE MAN? When George Bernard Shaw first began putting ideas together for this play in 1894, he had a potent memory of the brief and pointless Bulgarian1885 war referenced in this comedy. With his usual almost mystical understanding of human nature and politics, he was already warning those who would listen about the Eastern European hotbed of political unrest that, as predicted, erupted into what we now call World War One.
All of Shaw's 65 plays (this was his fourth) are comedies, skillfully addressing every conceivable human issue with a light and ironic twist. After years of finding success as a journalist and arts critic, ARMS AND THE MAN was Shaw's first taste of being taken seriously as a playwright, providing him the opportunity of showing his potential of making this imposing career leap.
As a portal into the creation of what became ARMS AND THE MAN, he first imagined it as a sort of music hall entertainment. In spite of Shaw's revolutionary and modern approach to playwriting, his concept was considered far too avant-garde at the time by his wife and friends, so he crafted it as a highly theatrical piece using the format of the cliché operettas of the time that were inspired by classic farcical conventions, subverting the characters that theatre-goers were accustomed to into far more complex humans. Given the light touch the play aspires to, and concerned that his audience may not appreciate the human issues being skewered, he opted to balance the perception by employing a title that weightily embraces the first stanza of the epic poem The Aeneid by Virgil to illustrate the absurd futility of war:
"Arms and the man I sing, who, forced by fate
And haughty Juno's unrelenting hate,
Expelled and exiled, left the Trojan shore."
His initial notion of a more conceptional approach to telling this story stayed with him. So, when the highly regarded actor, Maurice Evans, secured Shaw's permission to try his hand at this play Shaw hurriedly wrote with these ideas of employing a 'direct address' approach with the actors speaking to the audience to introduce the play before then allowing the story to unfold. It never happened, though Shaw granted Evans permission to mount his highly successful production of MAN AND SUPERMAN and, later, THE DEVIL'S DISCIPLE.
Shaw had always hoped to film this play (there was a film made in 1932, now lost). He had begun notes for a screenplay that would fully employ this theatrical approach, in the manner of Max Ophül's much later film, La Ronde. After the tremendous success of Shaw's 1938 film version of PYGMALION (for which he won the Academy Award for his screenplay), he'd decided to film ARMS as his next, since Britain was on the brink of war and the play's themes seemed relevant. He again imagined this play in a far more presentational approach with actors speaking directly to us through the camera and filmed as if inside a miniature Victorian toy theatre. It was Gabriel Pascal, his film producer, who talked him into filming MAJOR BARBARA instead. Thanks to Sir Michael Holroyd, notes and letters from Maurice Evans and other private collectors, and documents at the British Library, we have attempted to honor Shaw's original bold notion of employing the actors' direct address and to view this world through a childlike creation of a Victorian toy theatre. "What children we are!", he wrote. "War does not determine who is right – only who is left. It is well that war is so terrible, otherwise we should grow too fond of it. To be prepared for war is one of the most effective means of preserving peace. There is the eternal war between those who are in the world for what they can get out of it and those who are in the world to make it a better place for everybody to live in."
Most importantly, this play begins Shaw's lifelong theme of urging us to have the courage to face ourselves without illusion, without the mask we all inevitably create as a protection. But only after that, can we ever truly connect to another person.
To create the script for this performance, I have also referenced all four differing published versions of the play as well as the photocopies of his original handwritten manuscript. On behalf of all of us on the ARMS AND THE MAN team, thank you for joining us as we continue to explore the ever-relevant wit and wisdom of G.B.S.
WE LOOK FORWARD TO SHARING THIS PLAY WITH YOU!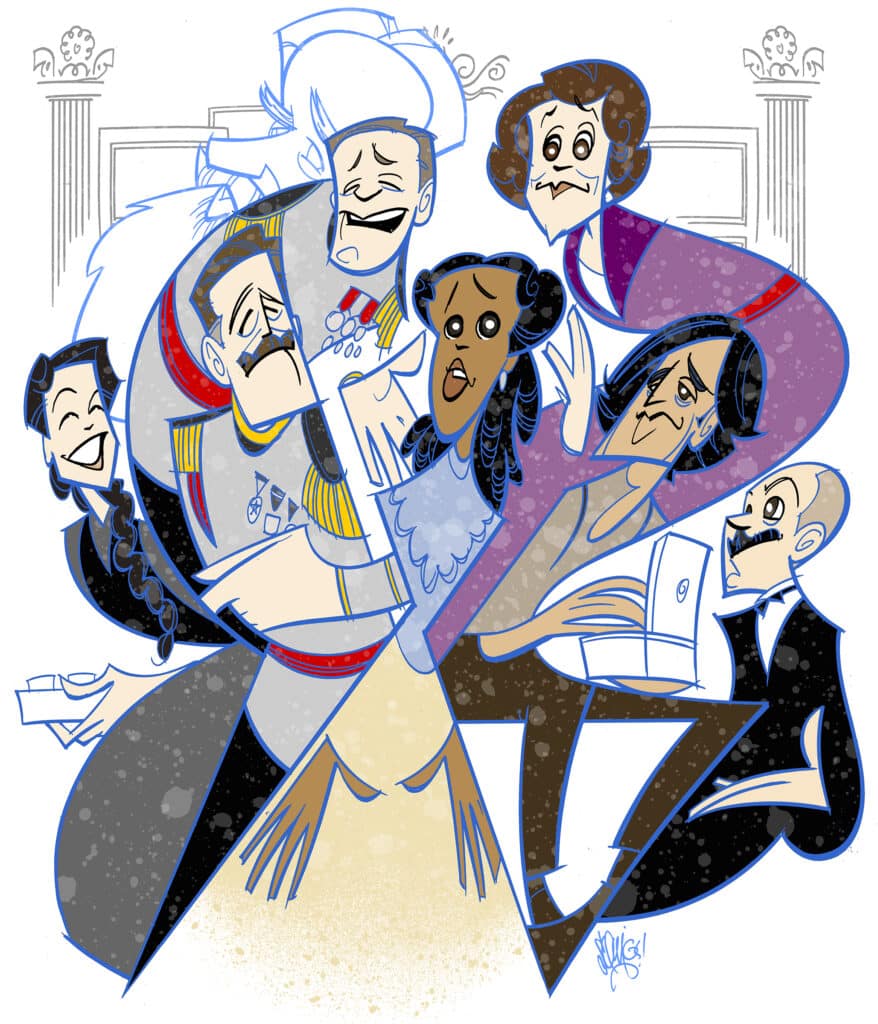 Justin "Squigs" Robertson's vision of GTG's ARMS AND THE MAN
JUST A FEW OF THE RAVES FOR "ARMS AND THE MAN"!
In the charming prologue to David Staller's production of George Bernard Shaw's classic comedy, we are warned that gunfire will be heard — but more predominant is the sound of romantic ideals merrily being shattered to bits. Arms and the Man is a prime example of Shaw's knack for sneaking subversive ideas — in this case, a dismantling of war worship — into a romantic romp.  Staller, drawing on his deep knowledge of Shaw, reshapes Arms and the Man to include instances of direct address at the top of each act, an idea the playwright seriously contemplated more than once. Arms and the Man ends happily, but only because everyone onstage has become thoroughly disillusioned. I wonder what an audience steeped in empire made of it; in any case, it remains distressingly relevant. There's a bitter truth at the play's heart, but in this case, it goes down like candy. If that was Shaw's gift, it is Staller's, too.  LIGHTING AND SOUND AMERICA
David Staller's direction was masterful. His decision to have the cast introduce the play established the performance's collegial tone. For two hours I didn't think about any other wars than the now-forgotten Serbo-Bulgarian conflict that informed the play. All the actors had that mischievous wink that signals "This is all in good fun." Their performances captured the slightly over-the-top bravado that was a staple of the play's music hall origins. Sergius bellows "Life is a farce!" There were winks and side-eyes aplenty. As the cast returned finally to say their goodbyes, I said to myself: well, that was lovely. THEATRE PIZZAZZ
In the hands of the director and its altogether delightful cast, Arms and the Man is a thoroughly joyful affair, for which we will leave the last word to Captain Bluntschli, the "chocolate cream soldier," who reminds us all: "Never for a moment must we ever forget how lucky we all are to…to just be alive!" TALKIN' BROADWAY
All of Gingold's productions feature
thrilling ancillary events!
We hosted an international team of Theatre Artists, Journalists, and Shaw Scholars who will kick some hot topics around!
Shaw, Activism in the Arts, Women's Rights, Changing Legal Issues
that the arts have inspired, or any other topic related to CANDIDA!
MAKE SURE YOU'RE ON OUR MAILING LIST FOR ALL UPCOMING EVENTS!
Join the family.
Join our mailing list and stay informed!