FRIDAY 17 MARCH
6:00-7:30 pm EST
for a virtual open mic with
GINGOLD THEATRICAL GROUP
and an ALL-STAR GROUP OF ACTORS!


BERNARD SHAW's
CANDIDA
Preview Start October 5th
Opening Night October 25th
October 5 through November 19
Theatre Row, Theatre Two,
410 West 42nd Street.
---
Past Event
Virtual open mic with Gingold Theatrical Group
NEXT UP! FREE!
OUR IRISH POETRY SLAM!
Thursday
March 17
6pm ET
CLICK HERE FOR MORE INFORMATION
CLICK HERE TO REGISTER

Thanks to all of you who joined us on Monday, February 14th
at 6:00-7:30pm EST for a virtual open mic with Gingold Theatrical Group!
CLICK HERE TO VIEW IT ON FACEBOOK!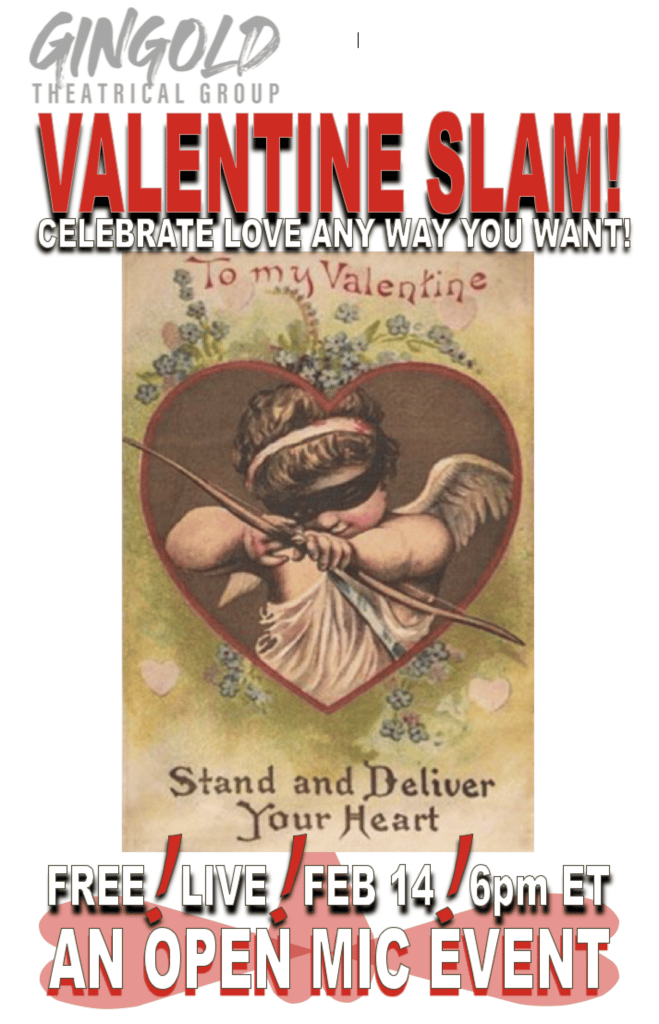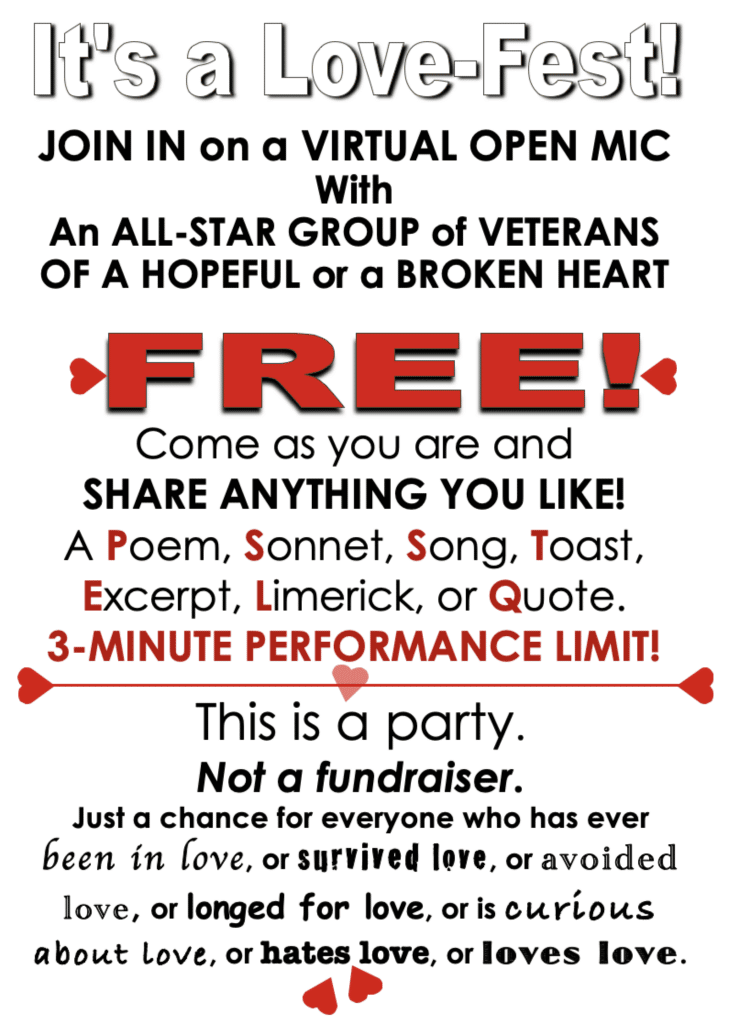 ---
SHAKESPEARE SONNET SLAM!
BARD'S BIRTH BASH STILL AVAILABLE!
WATCH FOR FREE ON:
FACEBOOK FOR THE LIVESTREAM!

IT'S SHAKESPEARE'S BIRTHDAY!
This is a birthday party! Not a fundraiser!
Just a chance to raise a glass and cut the cake!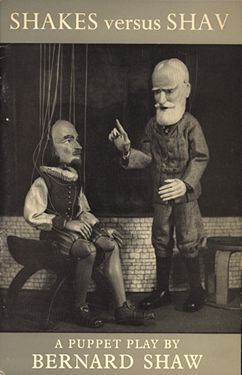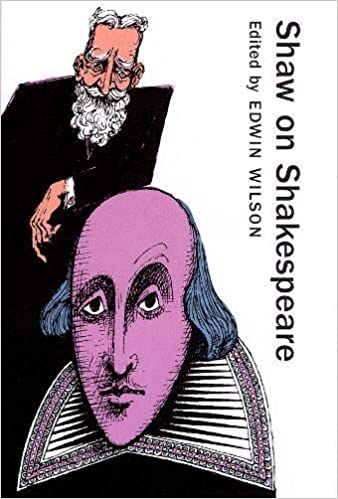 …AND OUR LAST BIG EVENT:
IRISH POETRY SLAM!
STILL VIEWABLE! JUST CLICK: FACEBOOK!


OUR FREE ONLINE READINGS!
SUPER SHAW 2020!: THIS EVENT IS OVER. Make sure you're on our mailing list for future events!
A splendiferous and mad melange of Shaw as you've never heard him before! Scenes, monologues, poems, and surprises by GBS.
Starring BRENDA BRAXTON, MICHAEL CERVERIS, JOEL GREY, MARSHA MASON, PATRICK PAGE, TONYA PINKINS, RENEE TAYLOR, and KAREN ZIEMBA!
Join us as we celebrate dropping the curtain on the most bizarre year of all time with a spectacular collection of excerpts from the Shaw canon performed by some of our most dynamic, most compelling, most accomplished award-winning actors!

Join us as we celebrate dropping the curtain on the most bizarre year of all time with a spectacular collection of excerpts from the Shaw canon performed by some of our most dynamic, most compelling, most accomplished award-winning actors!
This event will remain online on the StarsInTheHouse YouTube page from Dec 14th to Dec 18th in case you miss the live broadcast!

Shaw's MAN & SUPERMAN
(This performance was great fun and is now but a blissful memory)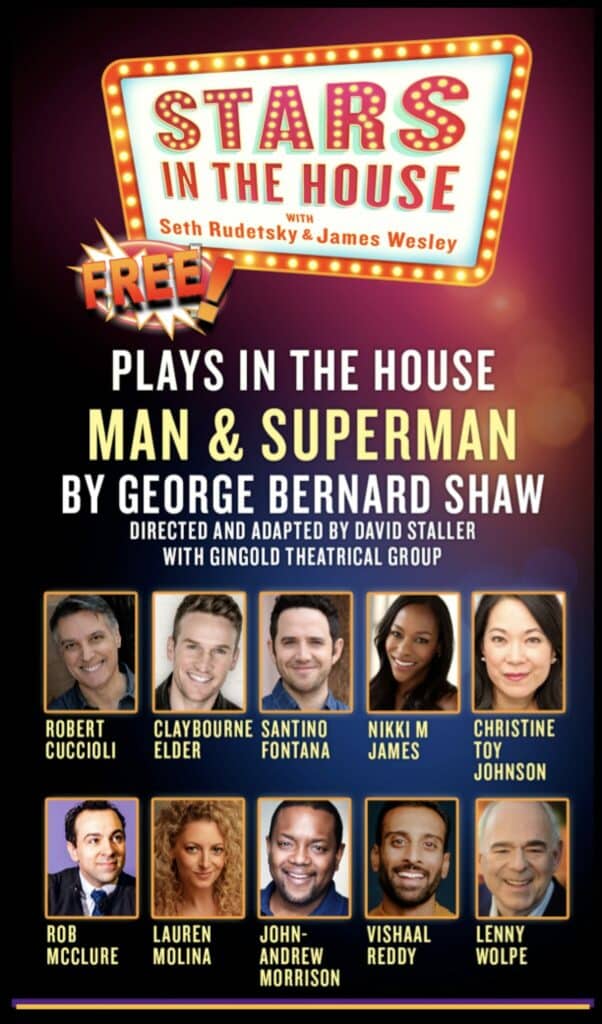 MAN & SUPERMAN: A comedy of Hellish proportions. Jack, a confirmed bachelor, is determined to keep clear of Ann's matrimonial designs on him. He flees across continents and even, in the legendary dream act of DON JUAN IN HELL, to Hades for a chat with the Devil and back again to avoid having to meaningfully connect to another person. But, finally, her intelligent will is too much for him. This play gleefully examines the importance of embracing our true self without artifice so that we may connect to and understand ourselves and, ultimately, become a part of our community and the world around us.
This is one of Shaw's most enduringly delightful, famously iconic, and yet least known plays, which will be performed (almost) complete in a pithy but substantially cut two½ hour version created by David Staller
Our spectacular cast will include:
Jack Tanner/Don Juan … SANTINO FONTANA
Ann Whitefield/Dona Ana … NIKKI M. JAMES
Roebuck Ramsden/The Statue … ROBERT CUCCIOLI
Mendoza/The Devil … JOHN-ANDREW MORRISON
Octavius … VISHAAL REDDY
Violet … LAUREN MOLINA
Mrs. Whitefield … CHRISTINE TOY JOHNSON
Henry Straker … ROB McCLURE
Mr. Malone … LENNY WOLPE
Hector Malone … CLAYBOURNE ELDER
Directed and Narrated by DAVID STALLER
SIMPLY CLICK: HERE

We missed you! This event is now over…
Shaw's CAESAR & CLEOPATRA
The ALMOST historical epic!
A BENEFIT FOR THE ACTORS' FUND!

Adapted and directed by David STALLER
OUR SPECTACULAR CAST!
Ftatateeta … Brenda BRAXTON
Caesar … Robert CUCCIOLI
Cleopatra … Mirirai SITHOLE
Rufio … Jeff APPLEGATE
Britannus … Jonathan HADLEY
Pothinus … Rajesh BOSE
Apollodorus … Dan DOMINGUES
CAESAR & CLEOPATRA. One of Shaw's most famous and least known plays, this remarkable comedy hadn't been given a full NYC production in over 40 years before GTG's production last year! As an early draft of the Eliza/Higgins relationship in Shaw's Pygmalion, this highly entertaining play boldly addresses women's rights, gender roles, empowering the disenfranchised, and being an active and contributive member of the community. In this delightful fantasy, Shaw dares us to imagine how theatrically magical the past might have been! This adaptation, created by David Staller, incorporates Shaw's various versions over the years including his original hand-written draft, four of his production scripts from over the years, and even an early draft screenplay he had worked on during WWII.
These are readings presented in an online performance platform.
Our last event:
Shaw's high-flying comedy
MISALLIANCE
A BENEFIT FOR THE ACTORS' FUND!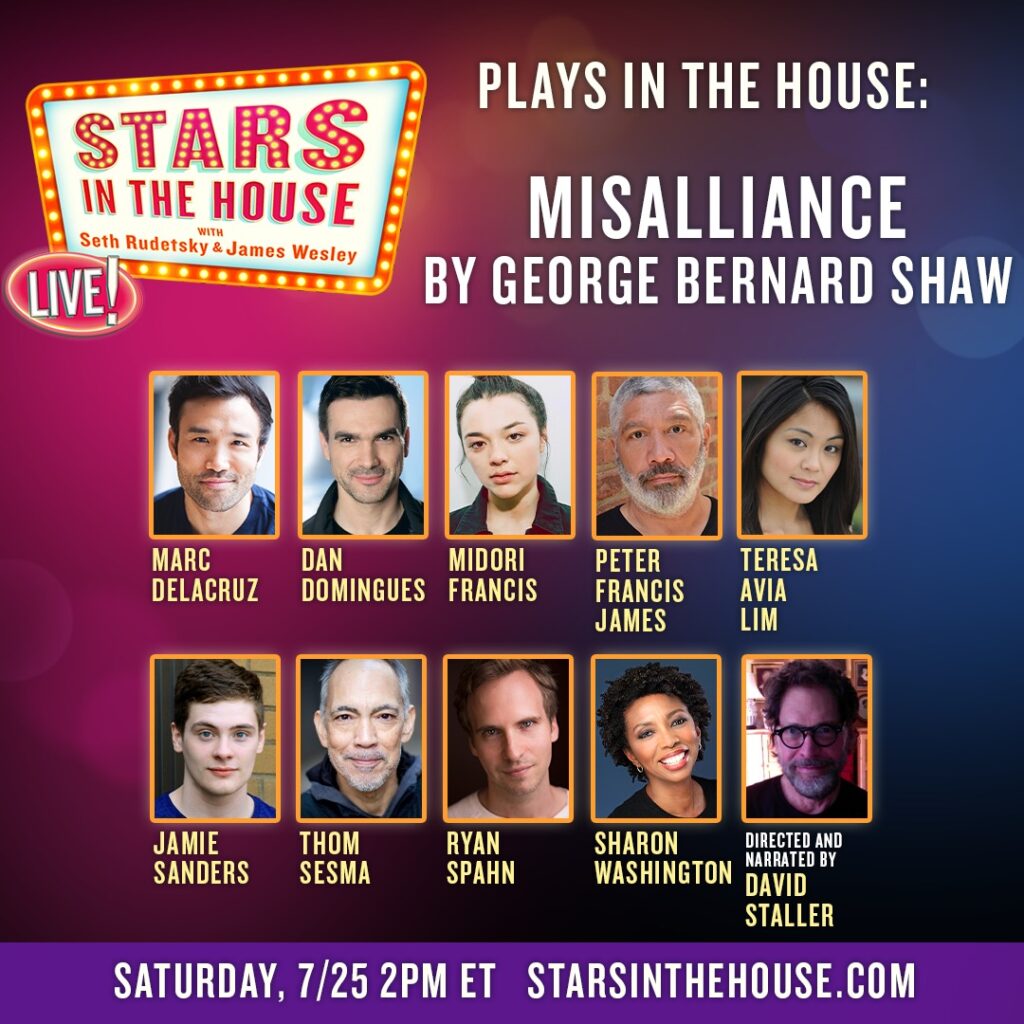 In Misalliance, the high-flying comedy, Shaw examines a variety of mating combinations. The social and the political collide with the romantic and the practical; the aristocrats take on the middle classes and vice versa, and-to top it all off there's a glamorous lady aviatrix and a tipsy gun-toting socialist loose on the grounds! This is one of Shaw's most beloved of plays.
Our Spectacular Cast!
Johnny Tarleton … Jamie Sanders
Bentley Summerhays … Ryan Spahn
Lord Summerhays … Peter Francis James
Hypatia Tarleton … Midori Francis
Mrs. Tarleton … Sharon Washington
John Tarleton … Thom Sesma
Joey Percival … Marc delaCruz
Lina Szczepanowska … Teresa Avia Lim
Julius "Gunner" Baker … Dan Domingues
Director and Narrator … David Staller
"Keeping a creative link to our community has never seemed more urgently vital, so we're thrilled to have the opportunity to partner once more with Seth and James at Stars In The House! MISALLIANCE has been one of our most requested plays and, with this cast, it's sure to be sheer joy," says David Staller
Shaw's MRS. WARREN'S PROFESSION
Was performed on Saturday, June 20, 2pm
FREE! A benefit for the NAACP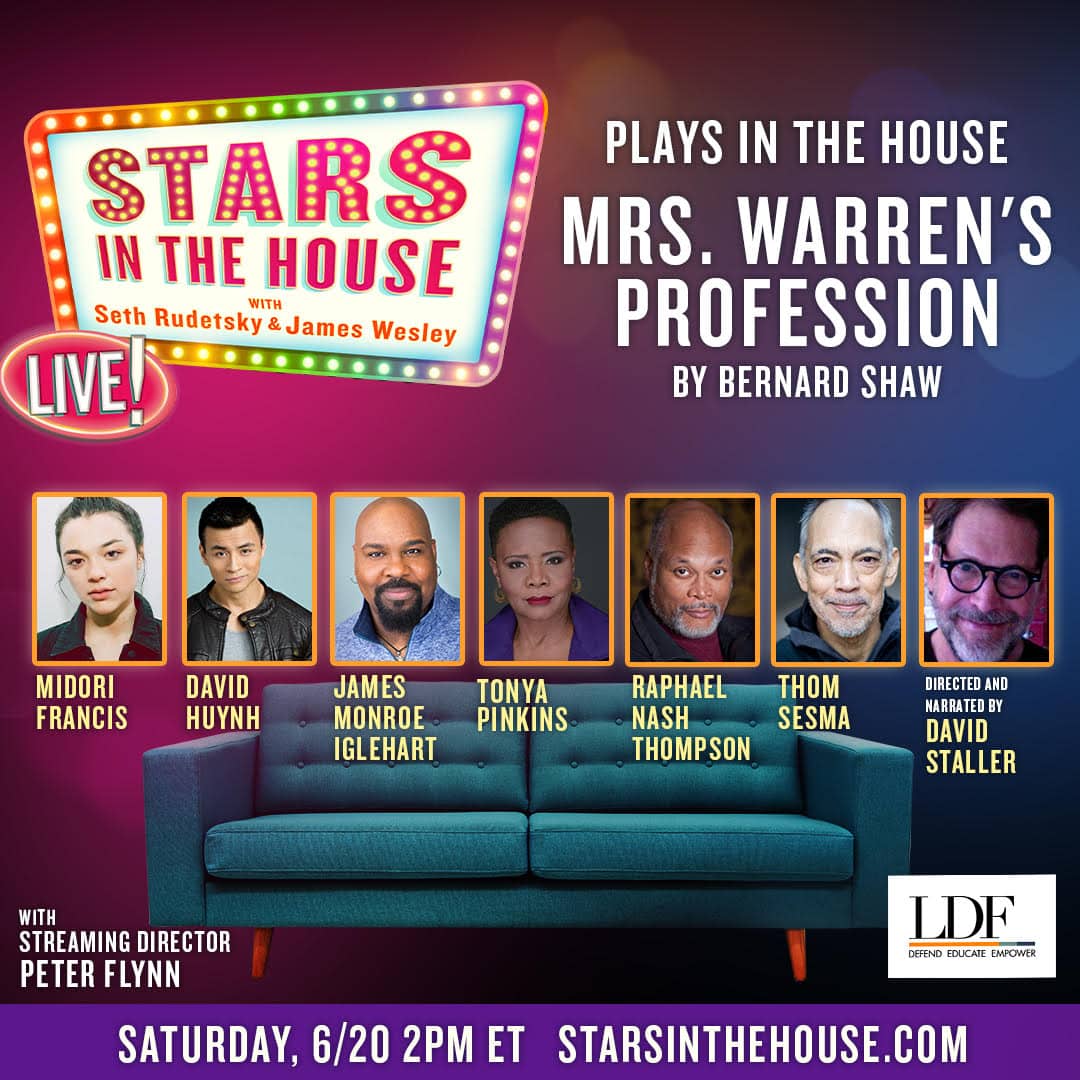 Our amazing cast:
Tonya Pinkins…Mrs. Kitty Warren
Midori Francis…Vivie Warren
David Huynh…Frank Gardner
James Monroe Iglehart…Reverend Samuel Gardner
Thom Sesma…Praed
Raphael Nash Thompson…Sir George Crofts
MRS. WARREN'S PROFESSION by Bernard Shaw, 1895. The struggle for equal rights has always been the hot topic for Shaw. This early play of his was considered so incendiary in its time that it was banned for years in Britain and, when it finally debuted here in New York City, the entire cast was arrested on opening night. It's not the plot point of prostitution that offended the officials, but the notion that a woman would struggle to create a successful life for herself in spite of the constraints set against her by law and society, and thrive without apology. With this, our third free online presentation, we have a dream cast to bring you this highly entertaining story involving a mother and daughter who, for the first time, reveal their true self to each other. The issue of women's rights permeates all of Shaw's work and perhaps never, before or since, has the topic been more explosively examined.
This event was performed on May 20th:
Shaw's CANDIDA
FREE! A benefit performance for The Actors Fund
Stars In The House
CANDIDA: Renée Elise Goldsberry
MORELL: Santino Fontana
MARCHBANKS: Andrew Keenan-Bolger
PROSSY: Andréa Burns
BURGESS: Jay O. Sanders
LEXY: Michael Benjamin Washington
Narrator and director: David Staller
This event was performed on April 25th:
Shaw's ARMS AND THE MAN
FREE! A benefit performance for The Actors Fund
Stars In The House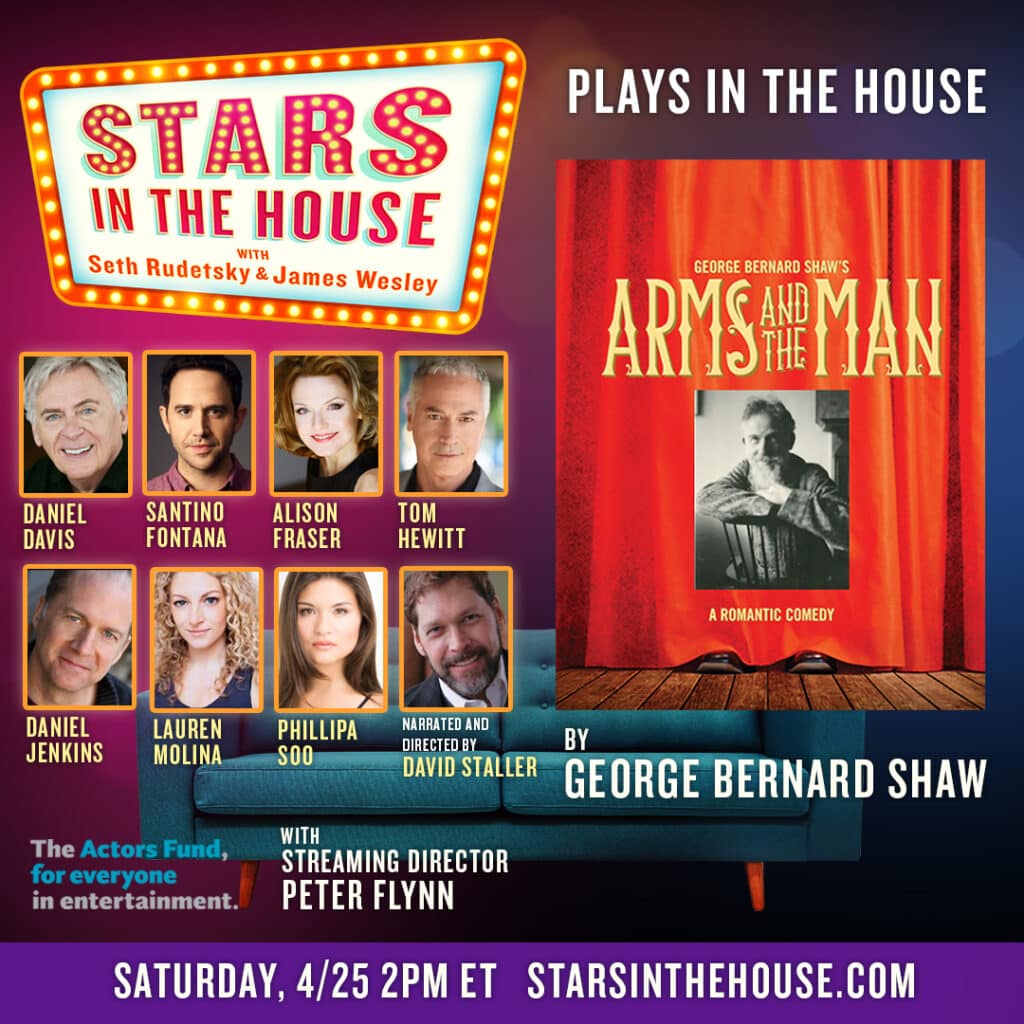 Our Full Productions
Our 2020 Off-Broadway production will by Shaw's rarely seen swashbuckling adventure comedy set in New Hampshire during the American Revolution, The Devil's Disciple.
GTG's 2019 Off-Broadway production was Shaw's Caesar and Cleopatra, which hadn't been seen in New York City in over 40 years! For more information, click here.
Project Shaw
These are unique Script-In-Hand performances with many of our finest actors.
Each month finds us at Symphony Space to perform play by G.B. Shaw and other activist playwrights. All events are followed by lively post-show discussions with the director and cast of each performance.
HAD WE NOT HAD TO ADJUST THE ENTIRE PLANET,
HERE'S WHAT WAS SCHEDULED:
2020 Season:
Seeing Clearly Through Art
All readings begin at 7 p.m.
All titles are subject to change.
All plays in this series are presented in a concert-reading format at the Leonard Nimoy Thalia Theater at Symphony Space, 2537 Broadway @ 95th Street.
Shaw Club
We're still planning our 2019 free monthly discussion group, and will list its dates here soon!
All Shaw Club discussions happen at 520 8th Avenue, 3rd Floor (between 36th and 37th Streets) from 6:00 – 7:30 pm.
To make a reservation, call 212.355.7823 or email 
info@gingoldgroup.org.
Special Events
Check back for updates on our other special events, including our annual Golden Shamrock Gala, the Shaw New York Festival, and events connected to our new works and education programs.