August 28, 2018 - September 29, 2018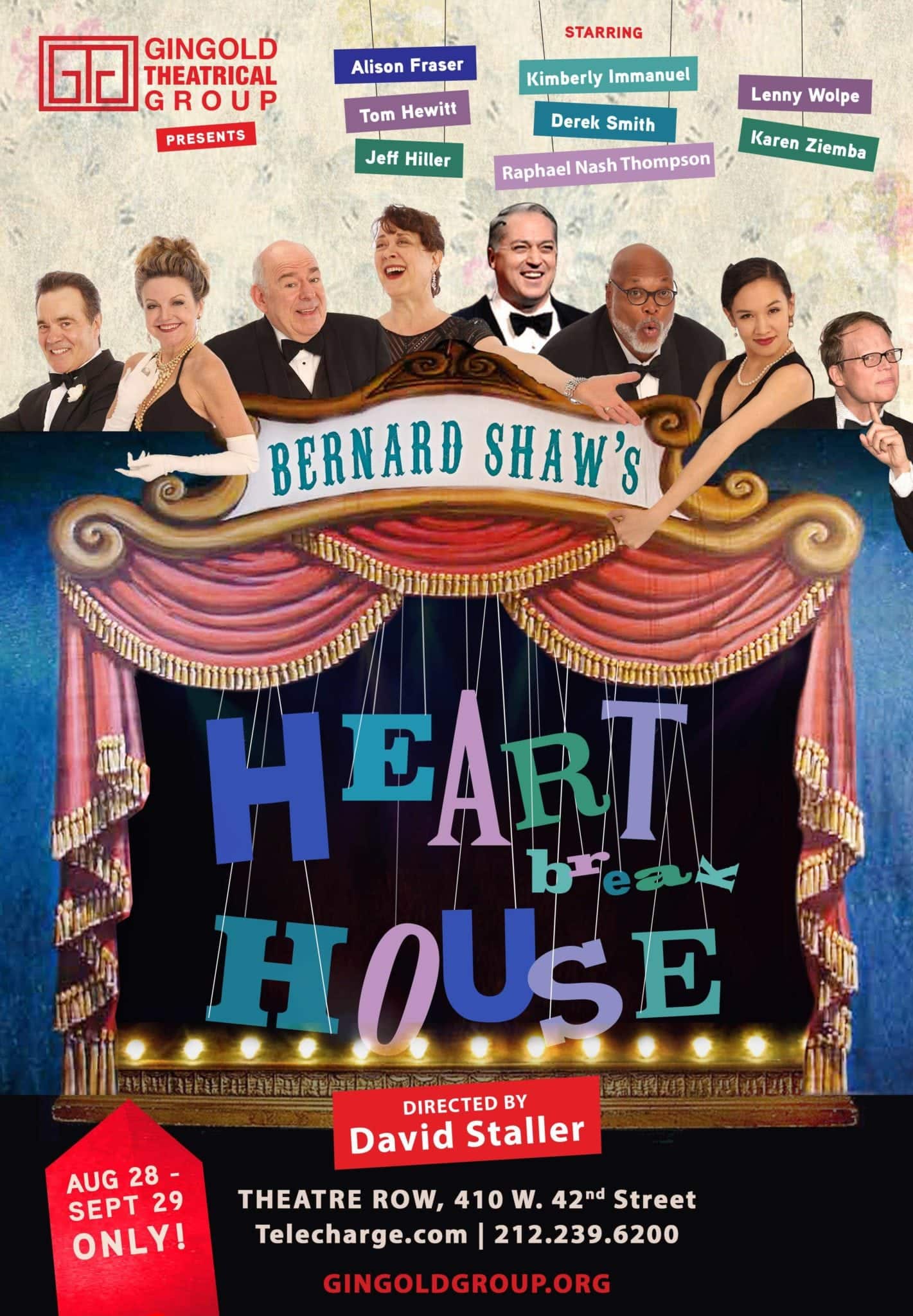 In this new adaptation of Shaw's infamous WWI play, it's the first days of the London Blitz of September 1940. With the performance interrupted, the cast and audience have joined together to seek shelter in the theatre's basement. To entertain the crowd, the cast performs Shaw's most vital paean to resistance and perseverance against tyranny, Heartbreak House. Inspired by actual events as lived by Hermione Gingold during WWII's darkest days, this revelatory approach will make Shaw's masterpiece more timely than ever.
Heartbreak House, which Shaw began at the beginning of WWI but which was first performed by New York's famed Theatre Guild in 1920, brings a wildly disparate group of people together in the English countryside over a September weekend to make major decisions about their future.  No stone is left unturned as each character is forced to come to terms with his or her past while finding a way to move forward in the face of the coming crisis.
After many years of struggling as a classical actress, Hermione Gingold became famous during the early days of the war in London performing satirical musical review sketches.  As the bombs fell, she kept the shows going until the explosions came too close for comfort and would bring everyone below the stage or to the shelter across the road for safety. To keep spirits up, she and her co-workers would entertain the group by presenting plays. The most often requested play was Shaw's most ardent plea for us to stand up to the coming storm, Heartbreak House. Our production, inspired by our company's name-sake, will recreate one of these lively events.
Coming to THEATRE ROW August 28 – September 29, 2018!
410 W 42nd St, New York, NY 10036
Telecharge:


TICKETS!


212.239.6200
Our Remarkable Cast
Ellie Dunn … Kimberly Immanuel
Nurse Guiness … Jeff Hiller
Captain Shotover … Raphael Nash Thompson
Hesione Hushabye … Karen Ziemba
Lady Ariadne Utterword … Alison Fraser
Mazzini Dunn … Lenny Wolpe
Hector Hushabye … Tom Hewitt
Boss Mangan … Derek Smith
Randall Utterword … Jeff Hiller
The Burglar … Jeff Hiller
Our HEARTBREAK HOUSE team:
David Staller, director
Brian Prather, set designer
Barbara A. Bell, costume designer
Christina Watanabe, lighting designer
Toby Algya, sound designer
Cate DiGirolamo, production manager
Chris Clark, production stage manager
Kristin Bodall, assistant stage manager
Steve Mazzoccone, assistant to the director
Press Representative, David Gersten
Marketing Team, DR Advertising
St. Paul's image: "Defiance" by James Biggadike
The Blitz. 1940. Prime Minister Winston Churchill sent word that St Pauls Cathedral should be protected at all costs. 
 
Photos
Click an image to enlarge it.