Some men see things as they are and say, why; I dream things that never were and say, why not.
– GBS
It is difficult to separate Shaw from G.B.S., the caricature of himself he invented. The sheer amount that he wrote, said and accomplished, his provocative ideas, and his famous eccentricities form this larger-than-life persona that fascinated the public during his long life. As a man who always saw himself as an outsider, it was this very image that he used to shield himself from the public.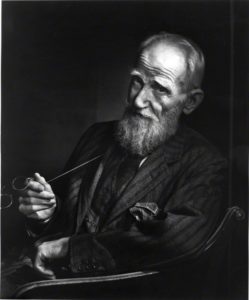 Born in Dublin in 1856, Shaw moved to London at the age of 20. Having rejected formal schooling (toward which he had an enduring antipathy), he educated himself by independent study in the reading room of the British Museum. He began his career there, writing five novels for which he could find no publisher. His first success was as a music and literary critic, but a fervent advocate of Ibsen's Modernism, he was drawn to the theatre and writing plays. For the first time, Shaw brought plays animated by ideas to the London stage. With his radical rationalism, utter disregard of convention, keen dialectic and verbal wit, he mocked the frivolous comedies that defined the theatre of the Victorian era. He categorized his early plays as either Unpleasant (Widowers' Houses and Mrs. Warren's Profession) or Pleasant (Candida and You Never Can Tell). He was fiercely proud of being a free-thinking humanist, championing the cause of human rights. He was a tireless advocate of animal rights, as well, and a lifelong vegetarian who chose to avoid alcohol and caffeine.
The reasonable man adapts himself to the world; the unreasonable one persists in trying to adapt the world to himself. Therefore, all progress depends on the unreasonable man.
In 1884, he joined the newly-formed Fabian Society, serving on its executive committee from 1885 to 1911. The Fabians' goal was to replace capitalism with socialism through gradual reform rather than violent revolution. Through public lectures and tracts on the ills of the government and society (the first Why are the Many Poor? and many others written or edited by Shaw), the Society sought to open people's eyes to the problems of working conditions, women and families, housing for the poor, and other injustices of society.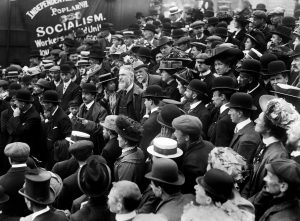 Shaw's extraordinary energy is evident not only in the amount he wrote, (besides the 65 plays and their explanatory prefaces, the socialist tracts, essays, reviews, stories, and thousands of letters) but in the way he lived his life. With determination, he undertook boxing and later bicycling, falling often and disastrously. He walked everywhere, great distances, often stopping to write along the way. As a lecturer, he began as "an arrant coward, nervous and self-conscious to a heartrending degree" (his own words) and transformed himself into a dazzling orator.
I often quote myself. It adds spice to my conversation.
— GBS
His goal in all he did was to point out the hypocrisy and the injustices of society and to work to improve any aspects he could. In this, he was practical as well as idealistic; many of his ideas for reform in education, divorce laws, and healthcare are in practice now. He was a founder of night classes for working men and of the London School of Economics.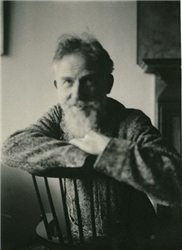 Shaw loved women, yet avoided marriage for much of his life. His correspondences with the actresses Ellen Terry and Mrs. Patrick Campbell had the weight and intensity of love affairs, but it was not until 1898, that he married Charlotte Payne-Townshend, a fellow Fabian. They lived in Ayot St. Lawrence, in a house now called Shaw's Corner. Charlotte learned to read Shaw's idiosyncratic shorthand, typed his manuscripts for him, and kept his life in order, giving him more time for writing and social activism. Shaw died, aged 94, from chronic problems exacerbated by falling from a ladder as he was trimming an apple tree. He was awarded both a Nobel Prize (1925) for his contribution to literature and an Oscar (1938) for his Pygmalion screenplay. He encouraged all people to forge individual paths in life, taking responsibility for their own choices.
This has been our inspiration at Gingold Theatrical Group.
Asked in his seventies to explain how he created G.B.S., Shaw wrote:
I was complicated by a deeper strangeness which has made me all my life a sojourner on this planet rather than a native of it. Whether it be that I was born mad or a little too sane, my kingdom was not of this world: I was at home only in the realm of my imagination … Therefore I had to become an actor, and create for myself a fantastic personality fit and apt for dealing with men, and adaptable to the various parts I had to play as an author, journalist, orator, politician, committee man, man of the world.
— GBS
A List of Shaw's Works
Novels
Short Stories
The Black Girl in Search of God (1932)
Drama
Plays Unpleasant (published 1898)
Plays Pleasant (published 1898)
Three Plays for Puritans (published 1901)
Essays
Major Critical Essays (1930). Quintessence of Ibsenism (1891), The Perfect Wagnerite (1898) and The Sanity of Art in one volume.
Doctors' Delusions, Crude Criminology, Sham Education (1931). Revised and reprinted in the Standard Edition, 1932.
Short Stories, Scraps and Shavings (1932). Revised and reprinted in the Standard Edition, 1934.
Dictators – Let Us Have More of Them (1938)
Everybody's Political What's What? (1944)
Sixteen Self Sketches (1949)
The Selected Prose of Bernard Shaw (1952). Selected and with Introduction by Diarmuid Russell. One thousand pages of essays, criticism, extracts from novels, etc. Contains The Perfect Wagneriteand The Quintessence of Ibsenism complete, including prefaces. Also contains Shaw's biographical prefaces to Immaturity and London Music in 1888–1889. Thematically organised and finely introduced. Excellent introduction to the scope of Shaw's prose.
Shaw on Shakespeare: An Anthology of Bernard Shaw's Writings (1961)
Shaw: An Autobiography (1970). Selected and edited by Stanley Weintraub. 2 vols
What Shaw Really Wrote about the War (2006). Edited by J. L. Wisenthal and Daniel O'Leary.
Musical Criticism
Music in London 1890–94. Criticism Contributed Week by Week to the World. 3 vols, 1932.
London Music in 1888–89 as Heard by Corno di Bassetto (later known as Bernard Shaw) with Some Further Autobiographical Particulars, 1937. Contains important, some 30 pages long, preface by Shaw.
Collected Music Criticism. New York: Vienna House, 1973. 4 vols. Reprints the two titles above.
How to Become a Musical Critic. Rupert Hart-Davis, 1960. Edited and with Introduction by Dan H. Laurence. Previously uncollected pieces on music written between 1883 and 1950.
Shaw's Music: The Complete Musical Criticism Of Bernard Shaw. The Bodley Head, Paperback, 1989. 3 vols. Second Revised Edition. Edited by Dan H. Laurence. Definitive edition.
Vol. 1: 1876–1890. Editor's Introduction and Notes, including one to the Second Edition.
Vol. 2: 1890–1893.
Vol. 3: 1893–1950. General Index to all volumes.
Note. First published in hardback in 1981. The Second Revised Edition was published only in paperback and it differs from the earlier one by only four short pieces [Dan H. Laurence, 'Editor's Note to the Second Edition'].
Shaw on Music. Applause, 2000. Edited by Eric Bentley. Fine, thematically organised selection, mostly from Shaw's professional criticism (1889–1894).
The Perfect Wagnerite (1898). Dover edition, 1967. Reprint of the Fourth Edition (1923). Contains the prefaces to the first three editions.
Debate
Shaw v. Chesterton, a debate between George Bernard Shaw and G. K. Chesterton (2000) Third Way Publications Ltd
Do We Agree, a debate between G. B. Shaw and G. K. Chesterton with Hilaire Belloc as chairman (1928)
More on George Bernard Shaw