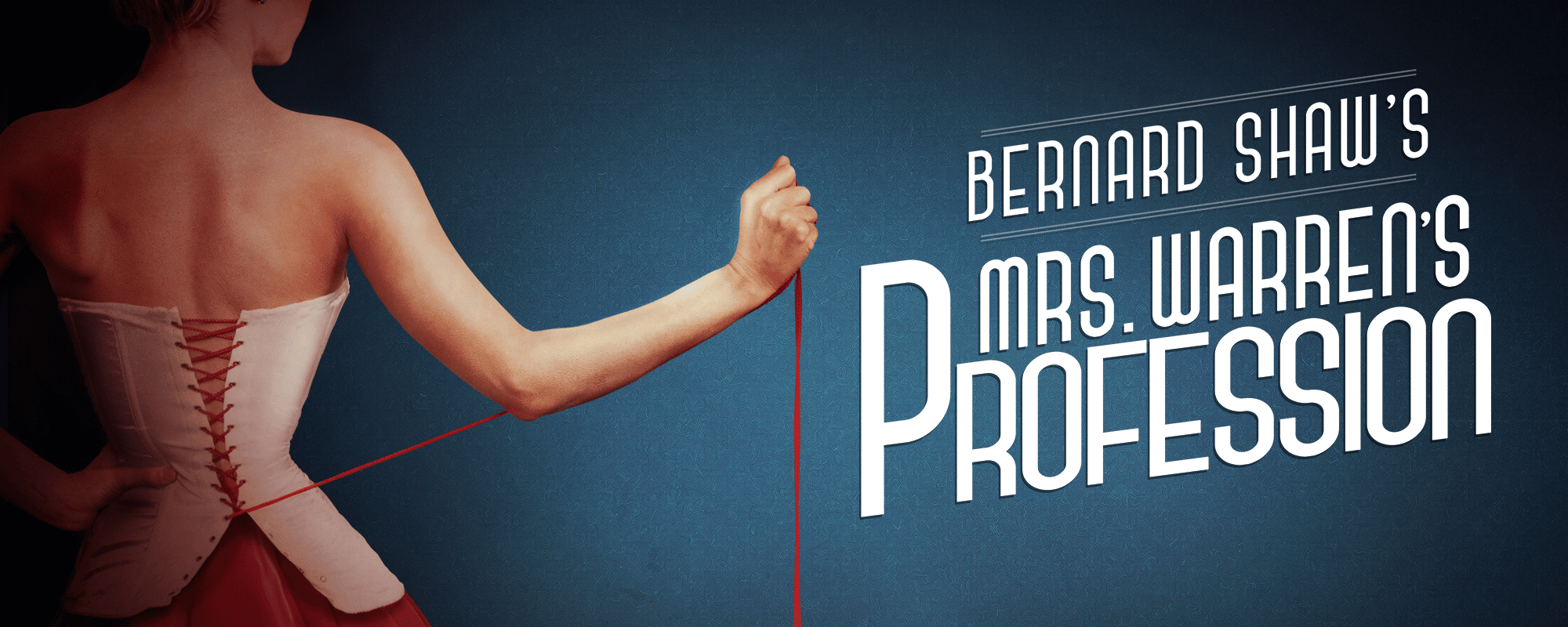 WE WERE LIVE IN 2021
BUT IT'S NOT TOO LATE
TO SEE IT NOW ONLINE!
BERNARD SHAW's
Mrs. Warren's Profession
Directed by David Staller
With This Astonishing Cast:
Robert Cuccioli
David Lee Huynh
Alvin Keith
Nicole King
Raphael Nash Thompson
Karen Ziemba
with
Katya Collazo & Max Roll
MRS. WARREN'S PROFESSION:
what price independence?
George Bernard Shaw built his life on controversy, determined to be the voice of empowerment for the disenfranchised. In a world where women have no legal rights, his play examines a woman who, coming from nothing, has become one of the most wealthy and powerful of executives running an international string of high-class brothels, keeping her life hidden from her daughter. Only when the truth is revealed does the house of cards topple.
In this infamous comedy/drama, George Bernard Shaw brings us his most provocative play, which examines how six people face their past to plan for their future, including the mysterious title character who has built a global empire from the ground up.
Come experience the provocative play that, in its world debut in New York in 1905, the entire cast was arrested on opening night! With a glorious cast by the most amusing and insightful playwright in the English language, the always rascally George Bernard Shaw.
CAST!
Mrs. Kitty Warren…Karen Ziemba
Vivie Warren … Nicole King
Sir George Crofts … Robert Cuccioli
Frank Gardner … David Lee Huynh
Praed … Alvin Keith
Reverend Samuel Gardner … Raphael Nash Thompson
Understudies: Katya Collazo, Max Roll
TEAM!
Director: David Staller
Costumes: Asa Benally
Set: Brian Prather
Lights: Jamie Roderick
Sound: Frederick Kennedy
Hair: The Wig Associates
Production Stage Manager: April Kline
Assistant Stage Manager: Jade Doina
Assistant to the Director: Henery Wyand
Props: Brandy Hoang Collier
Wardrobe Supervisor: Grace Rusch
Production Manager: John Lant
Technical Director: Steven Brenman
Casting Director: Stephanie Yankwitt, tbd casting co.
Dramaturge: Joshua Weinberg and Henery Wyand
All of Gingold's productions feature ancillary events!
We hosted an international team of Theatre Artists, Journalists, and Shaw Scholars will kick some hot topics around! Shaw, Activism in the Arts, Women's Rights, Changing Legal Issues that the arts have inspired, or any other topic related to MRS. WARREN'S PROFESSION!
MAKE SURE YOU'RE ON OUR MAILING LIST FOR ALL UPCOMING EVENTS!
COVID Protocols and Information
For in-person events:  Gingold Theater Group is committed to maintaining a safe and healthy community. In order to ensure the health of their entire community, proof of COVID-19 vaccination is required for all employees and audience members. Their policy requires complete COVID-19 vaccinations before the date of attendance, which is currently defined as fourteen days following the final dose of the Johnson & Johnson, Pfizer, Moderna, or Astra-Zeneca vaccine. Proof of vaccination (the Excelsior Pass, the NYC COVID Safe Pass, a CDC vaccination card, and/or an official immunization record from outside the United States) will be required for entry into the theater. 
Building for the Arts and Theater Row: What You Should Know about Covid Protocols
Visit Theater Row's Covid Protocol Page. Click Here.
All guests ages 12 and older must present proof of FDA or WHO authorized full vaccination to enter the building. Proof of vaccine may include the original physical copy or a clear, unobstructed photo of the CDC vaccine card; Excelsior Pass Plus; NYC Covid Safe App; or valid international proof of vaccination. All proof of vaccination must be accompanied by a valid photo ID. Please note, we do not accept Excelsior Pass, only Excelsior Pass Plus. "Fully Vaccinated" means the performance date you are attending must be:
at least 14 days after your second dose of an FDA or WHO authorized two-dose COVID-19 vaccine, or
at least 14 days after your single dose of an FDA or WHO authorized single-dose COVID-19 vaccine.
The only exception to the above will be for guests under the age of 12. Guests under 12 must provide proof of one of the following COVID-19 tests:
negative COVID-19 PCR test taken within 72 hours of the performance, or
negative COVID-19 rapid antigen test taken within 6 hours of the performance.
Guests may present proof of vaccination or a negative test on paper or mobile device. All guests 2 and older must wear a mask at all times.
There will be no exceptions to this policy. We are sorry for any inconvenience this may cause. If you are unable to attend your scheduled performance due to the building safety policies, please contact the Box Office at boxoffice@theatrerow.org or by phone at (212) 714-2442 x45 (12pm-5pm daily). Thank you for your cooperation!
View our Covid-19 Information page for full details. https://bfany.org/theatre-row/covid-19-information/
Join the family.
Join our mailing list and stay informed!