May 21, 2012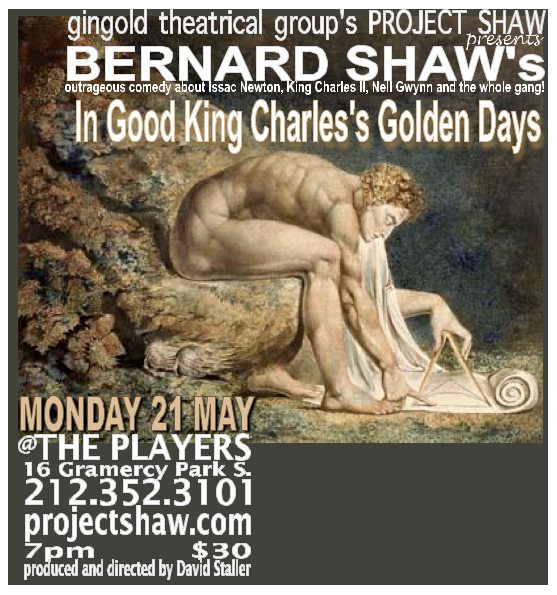 Imagine this: it's 1680 and you're in Isaac Newton's house. In walks Charles II, in disguise and leaving all of his dogs outside, with George Fox the original Quaker. Every one of Charles's mistresses, including Nell Gwyn, proceed to come looking for him. What follows is a tremendous send-up of science, philosophy, play-writing and the arts. As usual, Shaw has a field day by challenging everything we hold near and dear.
Written by Bernard Shaw in 1939.
Cast:
Mrs. Basham – Ms. Christine Pedi
Isaac Newton – Mr. Daniel Jenkins
George Fox – Mr. Bill Kux
King Charles II –  Mr. Jay O. Sanders
Nell Gwynn – Ms. Amy Rutberg 
Barbara Villiers, Duchess of Cleveland – Ms. Alison Mackie
Louise de Kerouaille – Ms. Cady Huffman
James, Duke of York – Mr. Sean Dugan 
Godfrey Kneller – Mr. Don Stephenson
Queen Catherine of Braganza – Ms. Maryann Plunkett
Narrator / Sally – Ms. Ruth Leon
Evening hosted by Jeremy Gerard of BLOOMBERG NEWS
Prodcued and directed by David Staller
Photos
Click an image to enlarge it.