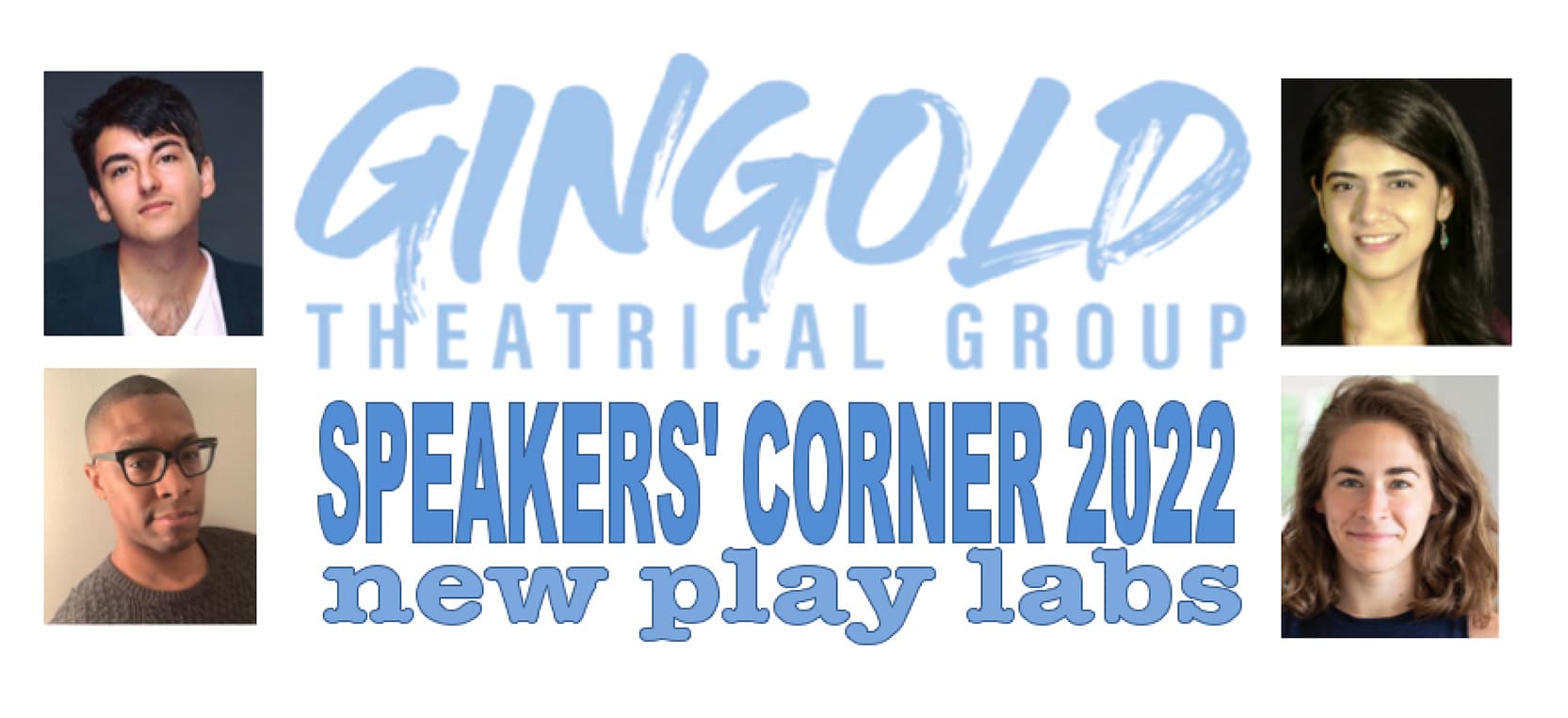 2022
Gingold Theatrical Group
Announces
SPEAKERS' CORNER New Play Development
Plays-In-Progress Workshops
29-Hour Equity Workshops That Continue the Development Process
Featuring:
Karma Sutra Chai Tea Latte
by Aeneas Hemphill, Directed by Arpita Mukherjee
Vigil-Aunties
by Divya Mangwani, Directed by Arpita Mukherjee
There Goes The Neighborhood
by Marcus Scott, Directed by Dev Bondarin
Howl From Up High
by Mallory Jane Weiss, Directed by Lily Riopelle
Gingold Theatrical Group (David Staller, Artistic Director), now in its 17th Season, continues its new play development with the Plays-In-Progress AEA-approved Showcases of this year's SPEAKER'S CORNER Writers Group. This season, writers Aeneas Sagar Hemphill, Divya Mangwani, Marcus Scott and Mallory Jane Weiss are developing works in response to prompts from the revolutionary activist humanitarian writings and precepts of George Bernard Shaw. These Actors Equity Association approved 29-hour workshops culminate with a presentation as an opportunity for each playwright to assess where they are with their work and to determine the next steps to be taken. These invitation-only presentations will take place at ART-NY Studios (520 8th Avenue). Space for each final presentation is extremely limited and reservations must be made, so to request the opportunity to attend any of these events please email info@gingoldgroup.org
This year's showcases will be:
*COMPLETED!
Howl From Up High
by Mallory Jane Weiss, Directed by Lily Riopelle
Thursday May 19th at 6pm
Purva Bedi, Tori Ernst, Jacqueline Guillen, Sarah Rose Kearns, Adam Langdon, Collin McConnell;
Assistant Director, Margaret Lee
*COMPLETED!
Vigil-Aunties
by Divya Mangwani, Directed by Arpita Mukherjee
Friday May 20th at 7:30pm
Anya Banerji, Aadya Bedi, Sayali Niranjan Bramhe, Rahoul Roy, Mahima Saigal, Salma Shaw, and Rita Wolf;
Assistant Director, Sara Vishnev
*COMPLETED!
There Goes The Neighborhood
by Marcus Scott, Directed by Dev Bondarin
Friday June 3rd at 7pm
Phillip Burke, Savanna Calder, Broderick Clavery, Anthony Goss, Ashley Jossell, Olivia Kinter, Monique Robinson, Cliff Sellers
Stage Manager Elliot J. Cohen.
***DUE TO COVID CASES THIS IN-PERSON PRESENTATION WAS CANCELLED!***
Karma Sutra Chai Tea Latte
by Aeneas Hemphill, Directed by Arpita Mukherjee,
Sunday June 5th at 5pm
Aadya Bedi, Rajesh Bose, Shawn Jain, Mahima Saigal, Khyati Sehgal, Imran Sheikh
Assistant Director, Sarah Vishnev
Stage Manager, Elliot J. Cohen
"Among the many programs we've developed over the last 17 years, developing new plays with the intent to produce and publish, has always been the most ambitious dream of all of us at Gingold. While we continue to produce our annual full off-Broadway productions of plays by George Bernard Shaw, we plan to add at least one new play to our schedule to share with our devoted patrons," said David Staller.
Named after the corner of London's Hyde Park where George Bernard Shaw and other political speakers have delivered speeches since 1855, GTG's SPEAKERS' CORNER writers each year who will spend the year exploring a specific Shaw play and writing individual new plays in response to that text and Shaw's forward thinking humanitarian ideals. Speakers' Corner members meet bi-monthly, and GTG will host showings of the works that Speakers' Corner develops at the end of the season.
OUR WRITERS:
Aeneas Sagar Hemphill (he/him) is an Indian-American playwright and screenwriter based in NYC and DC. Weaving through many genres, his work builds new worlds to illuminate our own, investigating the ghosts that haunt our lives and communities with passion, pathos, and humor. He was a 2019 Resident Artist with Monson Arts Center and 2017-2018 Playlab fellow at Pipeline Theatre, as well as semi-finalist for the 2019 Princess Grace Award, semi-finalist for the 2019 Mabou Mines Resident Artist Program, and finalist for the 2017 Many Voices Fellowship. His plays include: Black Hollow (Argo Collective, Dreamscape Theatre), The Troll King (Pipeline), Childhood Songs (Monson Arts), The Republic of Janet & Arthur (Amios), The Red Balloon (Noor Theatre), A Stitch Here or There (DarkHorse Dramatists, Slingshot Theatre), A Horse and a Housecat (Slingshot Theatre). MFA Playwriting, Columbia University.
Divya Mangwani is a writer and theatre artist from Pune, India, based in New York. She examines the absurdities of the social, political and mythical. Her work focuses on global identity and belonging. Divya was the founder and Artistic Director of Moonbeam Factory Theatre, where she wrote, directed, and produced plays in India, Singapore and Glasgow. In New York, she has developed work with UNICEF, Soho Rep, New York Theatre Workshop, Gingold Theatrical Group, Rattlestick Theatre, Mabou Mines, Hypokrit Theatre, The Flea, Project Y, Pipeline Theatre, Rising Sun, and Governors Island. Divya is a recent fellow of the Soho Rep Writer/Director Lab and the Gingold Theatrical Group Speakers Corner and was a NYTW 2050 Artistic Fellow, Hypokrit Theatre Tamasha playwright, Project Y Writers Group and Playlab fellow at Pipeline Theatre. Divya has also worked as a journalist and editor at The Times of India, ESPN, Crisis Response Journal, and Daily News & Analysis.
Marcus Scott is a dramatist & journalist. Selected work includes Tumbleweed (finalist for the 2017 Bay Area Playwrights Festival; semifinalist for the 2022 Eugene O'Neill Theater Center National Playwrights Conference, the 2022 Blue Ink Playwriting Award & the 2017 New Dramatists Princess Grace Fellowship Award), Sibling Rivalries (finalist for the 2021 Seven Devils Playwrights Conference; semi-finalist for the 2022 Lanford Wilson New American Play Festival, the 2021 Blue Ink Playwriting Award & the 2021 New Dramatists Princess Grace Fellowship Award) and Cherry Bomb (recipient of the 2017 Drama League First Stage Artist-In-Residence). He was commissioned by Heartbeat Opera to adapt Beethoven's Fidelio (Librettist/Co-writer; The Met Museum; NY Times Critic's Pick). Recently developed at Gingold Theatrical Group (Speaker's Corner), Zoetic Stage (Finstrom Festival Of New Work), Queens Theatre (New American Voices series) and The Road Theatre Company's Under Construction 3 Playwrights Group and Cohort 2 of the Southern Black Playwrights Lab at the Mojoaa Performing Arts Company. Scott is a 2021 NYSAF Founders' Award finalist and a 2021 Doric Wilson Independent Playwright Award semi-finalist. His articles appeared in Architectural Digest, Time Out New York, American Theatre Magazine, Playbill, Elle, Out, Essence, The Brooklyn Rail, among others. MFA: GMTWP, NYU Tisch.
Mallory Jane Weiss's plays include Big Black Sunhats (The O'Neill National Playwrights Conference 2022; Clubbed Thumb Biennial Commission finalist 2020), Lights Out and Away We Go (Clubbed Thumb reading June 2022), The Page Turners (The O'Neill National Playwrights Conference finalist 2021), Pony Up (Princess Grace Finalist 2019; SPACE on Ryder Farm semi-finalist 2020), Howl From Up High (in development with Gingold Theatrical Group), Evermore Unrest (Red Bull Short New Play Festival 2020), Dave and Julia are stuck in a tree (Playing on Air's James Stevenson Prize 2020), and Losing You, Which Is Enough (workshop readings at The Lark and Cherry Lane Theatre). She is a member of Clubbed Thumb's Early Career Writers' Group (2021-2022), The COOP's Clusterf**k vol. 2 (2021), Gingold Theatrical Group's Speakers Corner, and Fresh Ground Pepper's BRB Retreat (2019). Mallory earned her B.A. from Harvard University and her M.F.A. in playwriting from The New School. She also works as a Senior Writer for Ethena, where she creates harassment-prevention training in the form of short-form articles, graphic novels, audio plays, and more.
Gingold Theatrical Group, now in its 17th year, creates theatre and theatre-related programs that promote the humanitarian ideals central to the work of activist playwright George Bernard Shaw, including universal human rights, the freedom of thought and speech, the equality of all living beings, and the responsibility of individuals to promote societal progress.
For more information about the Workshops or any of Gingold Theatrical Group's projects, please call 212-355-7823, email info@gingoldgroup.org, or visit online at www.gingoldgroup.org.