Fat Ham's R.J. Foster and Queen's Avanthika Srinivasan star in the Off-Broadway production at Theatre Row.

BY LEAH PUTNAM
OCTOBER 05, 2022
Read the original article here.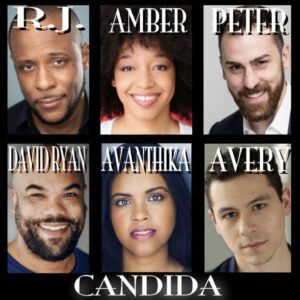 George Bernard Shaw's Candida begins previews October 5 at Off-Broadway's Theatre Row. Gingold Theatrical Group's Sondheim-inspired production will open in Theatre Two October 25, and has a limited run through November 19.
The play follows Reverend James Morell and his wife Candida, who live a comfortable life until everything is thrown into question by new housemate and young poet, Marchbanks. In a time of global turmoil, six characters gather to reconsider how they define themselves and how they will move forward into their futures.
Starring in the cast are R.J. Foster (Fat Ham) as Morell, Peter Romano (First Down) as Lexy, David Ryan Smith (Epiphany) as Burgess, Avanthika Srinivasan (Queen) as Candida, Avery Whitted (Against the Hillside) as Marchbanks, and Amber Reauchean Williams (Behind the Sheet) as Prossy.
Alton Alburo (to the yellow house), Fernando Lamberty (Law & Order: Organized Crime), and Matenin Sangare (School Girls: Or, the African Mean Girls Play) serve as understudies.
Director David Staller helms the creative team which features scenic designer Lindsay Genevieve Fuori, lighting designer Jamie Roderick, sound designer Michael Costagliola, and costume designer Dustin Cross. Props will be by Sean Sanford, and hair design by The Wig Associates. Caroline Ragland will serve as production stage manager, with Julie Gottfried as assistant stage manager. Casting is by TBD Casting Company's Stephanie Yankwitt.
"Stephen Sondheim and I were first introduced when I was 15 through my godmother [and A Little Night Music's original Madame Armfeldt] Hermione Gingold (for whom we named Gingold Theatrical Group)," said Staller in an earlier statement. "Our common link was a fascination with George Bernard Shaw, especially his activism and humanitarianism. Sondheim claimed that there was nothing he wrote that was not inspired by Shaw. We enjoyed lively debates over the many unanswered questions raised by Candida in particular. It was the only Shaw play that he'd considered setting to music. Though we won't be turning the play into a musical, we will be resetting the play in a manner that Sondheim had been suggesting for years: in New York City at a time when the church (desperate to get people to come back for Sunday services) began sending their rock-star ministers to underserved communities at the end of the 1920s, which paralleled the time when Shaw wrote the play in London's 1890s. It's incredibly exasperating that Sondheim is no longer around to challenge us as we dive into this glorious comedy, but I feel this production will be a tribute to him, his love of George Bernard Shaw, and our long friendship."
For tickets and more information, visit BFANY.org.