December 9, 1897—May 24, 1987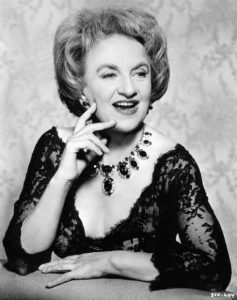 HERMIONE GINGOLD was an English actress known for her sharp-tongued, eccentric persona, an image enhanced by the sharpness of her nose and chin.  GTG founder, David Staller, was a great friend of Hermione Gingold's for many years. In the early 1980s, they created the "Shaw Salon," which met on Sunday afternoons, gathering such luminaries as Laurence Olivier, Joan Plowright, Helen Hayes, Lilian Gish, Douglas Fairbanks Jr., Mary Martin, George Rose, Ralph Richardson, Maureen Stapleton and Irene Worth to read Shaw's plays aloud.  Forming this company in her name is Staller's tribute to Gingold.
There are far too many men in politics and not enough elsewhere.
— HG
Gingold began her career in children's theatre in London in 1908. in 1911 she appeared in Where the Rainbow Ends with the young Noel Coward. She became a coloratura soprano and later performed in Shakespearean plays, such as The Merchant of Venice and Troilus and Cressida. In the 1930s, her quirky, ribald comedic sense became famous through musical revues, and it was during WWII that she became a star. It was her popularity with the American GIs that inspired her to move to New York.
It would appear that I have tried everything except incest and folk-dancing.— HG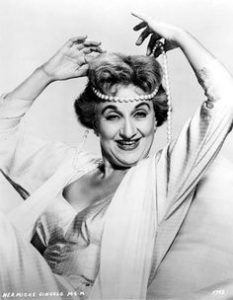 After moving to New York in 1951, she began a successful career on the Broadway stage in John Murray Anderson's Almanac. Gingold won a Golden Globe Award for Best Supporting Actress for her performance in the 1958 movie Gigi, in which she played Madame Alvarez. She played Eulalie Mackechnie Shinn in The Music Man (1962) and succeeded Jo Van Fleet as the graspingly possessive mother in Arthur Kopit's Oh Dad, Poor Dad, Mama's Hung You in the Closet and I'm Feelin' So Sad (1963) on Broadway and also in London. In the original 1973 Broadway production of Stephen Sondheim's A Little Night Music, Gingold was Madame Armfeldt.
The trouble with me is that I'm not considered an actress anymore. I'm a celebrity.— HG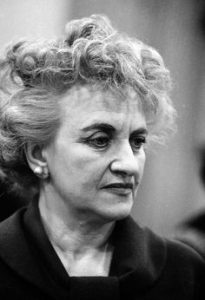 Gingold was known for her unruly hair—it was said she styled it by sticking her head out the window and letting the wind sculpt it—as well as her deep voice, a result of vocal nodes, which her mother forbade her to remove. Her inimitable comic sense, evident in her work on the stage, radio, television, and in the movies, is described by Sheridan Morley as "awesome eccentricity" and Kenneth Tynan as "strangely hilarious." She is quoted as saying, "I suppose I shall drop dead in the theatre, to a full house, I hope."
Really, sex and laughter do go very well together, and I wondered—and I still do— which is more important. —HG
More on Hermione Gingold