The man who writes about himself and his own time is the only man who writes about all people and about all time.
— GBS
The deadline for applying to GTG's 2019-2020 Speakers' Corner Writers' Group has now past.  Applications for the 2020-2021 group will be accepted from April 1 through June 15, 2020.
Speakers' Corner meets monthly from September through June.  Member writers read and discuss a specific play by George Bernard Shaw before responding to Shaw's work through targeted writing prompts.  Writers then spend the remainder of the year developing this work into full-length new plays inspired by Shaw's work.  At their monthly meetings, writers share their work and receive constructive feed-back from one another and from members of GTG's artistic staff.
Works developed through Speakers' Corner will then be nurtured through a multi-year developmental process aimed at bringing Speakers' Corner plays to full production.
The following plays have been developed and workshopped through Speakers' Corner:
The Unbearable Lightness of Christopher Cross by Hank Kim
Album of the Year, or Kathleen Lempit in Hell by James Presson
Mamó by Emily Daly
La Greña by Julissa Evette Contreras
Something in the Balete Tree by Ren Dara Santiago
Named after the corner of London's Hyde Park where Shaw and other political speakers have delivered speeches since 1855, GTG's Speakers' Corner brings together six to ten writers who spend the year exploring a specific Shaw play and writing new work in response to that text.
Speakers' Corner is supported, in part, by public funds from the New York City Department of Cultural Affairs in partnership with the City Council.
2018-19 Speakers' Corner Writers
Shaun Bennet Fauntleroy is a playwright, actress, and producer. As a playwright she has worked with Flux Theatre Ensemble, WRITEOUTFRONT, The Brick Theatre, New York Madness, and Judson Memorial Church's development series. Awards: 2017 Emerging Theater Artist grant (Theater Hall of Fame), Outstanding Actress in a Lead Role nomination (Richard III – NY Innovative Theatre Awards). Member of Smith Street Stage, Flux Theatre Ensemble (FoF), and the Beehive Collective. She lives in Brooklyn with her dog, Bentley. AEA, DGA www.shaunbfauntleroy.com
Amy Gijsbers van Wijk is a queer, first-generation American playwright from Texas. She has been a recent finalist for PlayPenn, and semi-finalist for the Bay Area Playwrights Festival and O'Neill Conference. Her work has been developed at The Flea, Dixon Place, The Tank, and elsewhere, with Pipeline Theatre Company, Fresh Ground Pepper, New Light Theatre Project and others. Amy once wrote a play for a robot. BA, Brooklyn College. MFA, Carnegie Mellon University.
Sarah Rose Kearns studied acting with Dan Daily, Ragnar Freidank, Austin Pendleton and many others, and she holds a bachelor's degree in creative writing from Columbia University. Her play-in-progress Persuasion, adapted from Jane Austen's novel of the same name, has received readings and workshops at such venues as the Actors Theatre of Louisville, HB Playwrights Foundation, and the UNC Jane Austen Summer Program. It will be presented next at the New York Society Library on December 1, 2018.
Peter Macklin is an actor whose first play, Someplace Warm, won the Samuel French competition and is published by them. Other plays include A Beautiful Building (readings at The Lark, The Acting Company and the Prairie Pride Festival), Oh! California! (59E59), Oliver and Me, A Different Time, and his newest, Conviction–in addition to many one-acts. He's also the screenwriter of the award winning short, Dinner at 40, that played film festivals world wide. www.petermacklin.com
Nikhil Mahapatra is a writer originating from India and Singapore who now resides in New York City. He graduated with a MFA in playwriting and screenwriting from the New School for Drama in 2018. Notable works include CARNAL, produced at the New School for Drama New Voices festival and American Hunger, read at the Cherry Lane Theatre & The Lark.
S.P. Monahan is a genderqueer playwright/performer, best known for writing and starring in the solo comedy DIVA (winner of the 2013 USolo Award for Best Musical and Audience Choice), which was later expanded into the musical DIVA: LIVE FROM HELL (music & lyrics by Alexander Sage Oyen). Other plays include AUNT JACK (Empire Stage), RODHAM/SADE (Sanctuary Series @ HERE Arts Center), GALLOWS TREE (Manhattan Repertory Theatre), and THE FRONT PORCH PLAY (Fordham University).
Mallory Jane Weiss is a Manhattan-based playwright. She received her BA in English from Harvard University, where her play, Beginning, was produced in the Adams Pool Theater. She is currently pursuing her MFA in playwriting at The New School. There, she has seen productions of her plays Underwater; Going Once, Going Twice; and A & Z's Escapades in Moonstruck City. Her ten-minute play, Underwater, went on to be published in Issue 004 of "The Dionysian".
Past Speakers' Corner Writers
2017-2018 Writers
Julissa Contreras
Emily Daly
Xavier Galva
Nick Gandiello
Hank H. Kim
James Presson
Ren Dara Santiago
David Zheng
Press Cuttings
Prior to 2017, GTG developed new work through its program, Press Cuttings.
Shaw began his career in the theatre as a critic before moving on to write more than 60 plays. In recognition of this, GTG's Press Cuttings program commissioned and supported the development of new plays written by theatre journalists. This project was named after one of Shaw's one-act plays: Press Cuttings, which takes aim at the power of the press in society.
Press Cuttings commissioned new plays by Jeremy McCarter, Robert Simonson, and David Cote. In 2008, GTG workshopped Robert Simonson's play with Michele Pawk and Jonathan Groff. In 2012, GTG workshopped Jeremy McCarter's new play with Adam Green and Jennifer Morris. David Cote's Otherland has received multiple workshops and readings through GTG, the most recent of which was in June, 2017 with Jennifer Dorr White, Daphne Gaines, Victoria Janicki, Joseph Ngo, Peter O'Connor, Maulik Pancholy, Claudia Givings, and Derek Smith under the direction of May Adrales.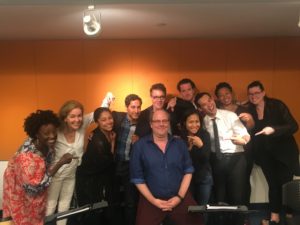 PLEASE NOTE:
•Gingold Theatrical Group accepts no unsolicited manuscripts.
•Gingold Theatrical Group presents no new works not specifically developed through its programs