December 16, 2019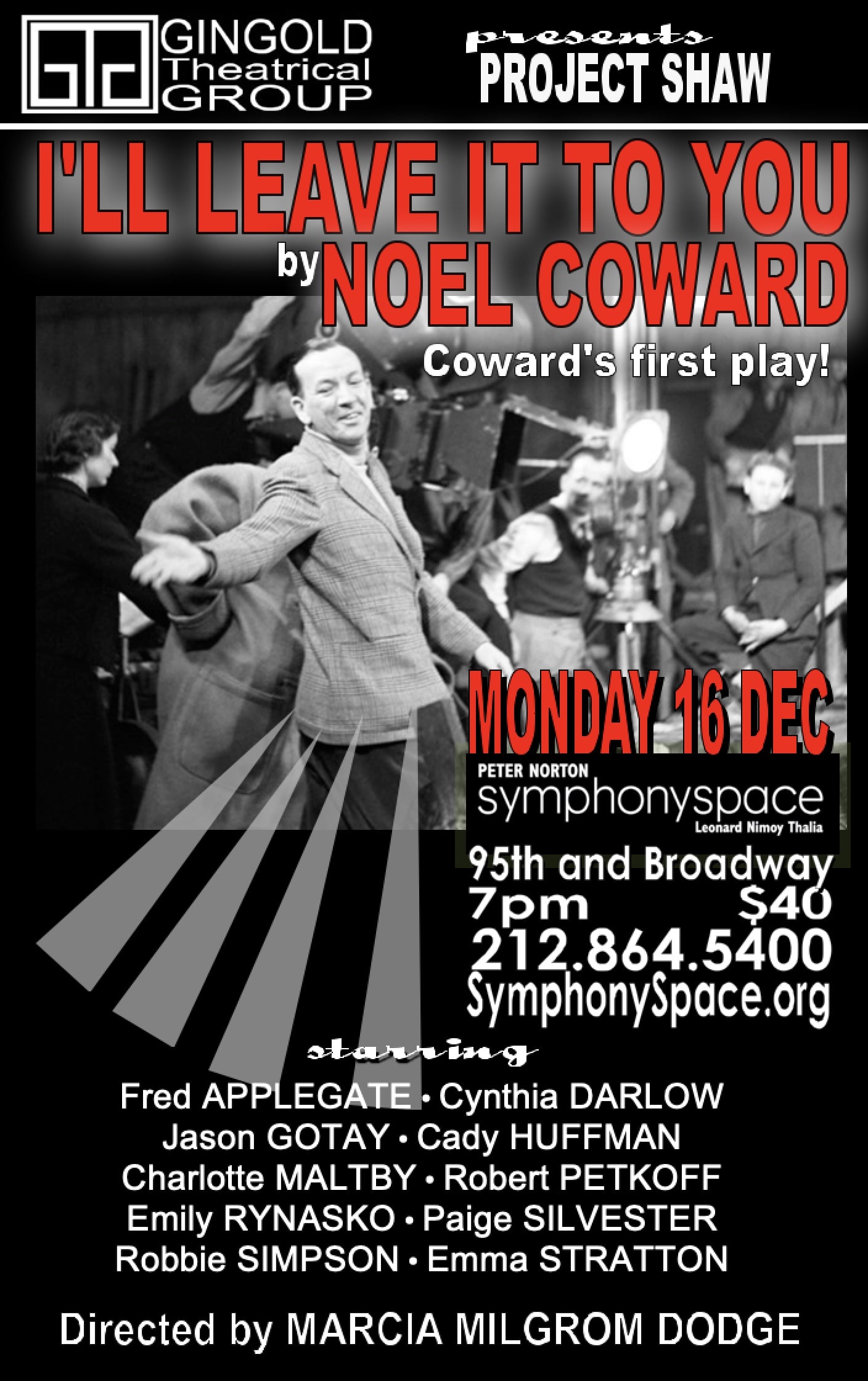 As inspired by Shaw's whimsical comedy, You Never Can Tell,  Noel Coward aspired to be the 'new' Shaw with I'LL LEAVE IT TO YOU! That was until he arranged a meeting with GBS who set him straight, assuring him that a Noel Coward would offer a far more compelling voice than yet another Shaw wanna-be. 'Be yourself, everyone else is taken.' So Coward went back to a blank page and wrote this rarely seen charming opus, which we're thrilled to offer on what will be his 120th birthday.
THE PLAY: Left a widow with five grown up children, Mrs. Dermot turns to brother Dan for help. Uncle Dan arrives to find an idle family ready to live on his money. He announces that he is doomed to die in three years and that he will leave his money to the member of the family who has made good by then. Each sets to with such determination that Oliver becomes a successful inventor, Evangeline a novelist, Bobbie a composer and Sylvia a film star; even Joyce, finishing her school career, distinguishes herself. Now he tells the family his riches are a myth and his previous announcement was only a means to raise the family from lethargy. Sylvia alone sees Uncle Dan's wisdom and berates the others for their narrow minded attitude. At heart, they are all genuinely attached to the wily uncle.
DIRECTED BY MARCIA MILGROM DODGE
OUR AMAZING CAST!
Mrs. Dermott … Cady Huffman
Daniel … Robert Petkoff
Bobbie … Jason Gotay
Sylvia … Paige Silvester
Mrs. Crombie … Cynthia Darlow
Oliver … Robbie Simpson
Evangeline … Charlotte Maltby
Joyce … Emily Rynasko
Faith … Emma Stratton
Griggs/Narrator … Fred Applegate
Noel Coward's first play may be a new discovery for you, but it's certainly time it was brought back into the light. Coward was determined to make his way in the world and, inspired by the work of Shaw, he dashed out this charming comedy from 1920 and immediately sent it to G.B.S. The advice the young Coward received stayed with him for the rest of your life. "Be yourself," Shaw advised, "everyone else it already taken." And from then on Coward resolved to be the most singular individual he ever met. With this play, he takes his first bold step into becoming the unique and celebrated artist we all know and love. — David Staller
These script-in-hand all-star readings are always sold out.
"Gingold Theatrical Group provides an invaluable — and unique — service to New Yorkers. Not only does it keep topnotch productions of great works of art before the public on a regular basis as no other theater company can, but it also does something less obvious. It keeps the tradition of intelligent argument, embodied in Shaw's plays but otherwise much lacking from public discourse, alive for those who need it most: the thinking people of a great city." — Jesse Green, New York Magazine.