April 23, 2012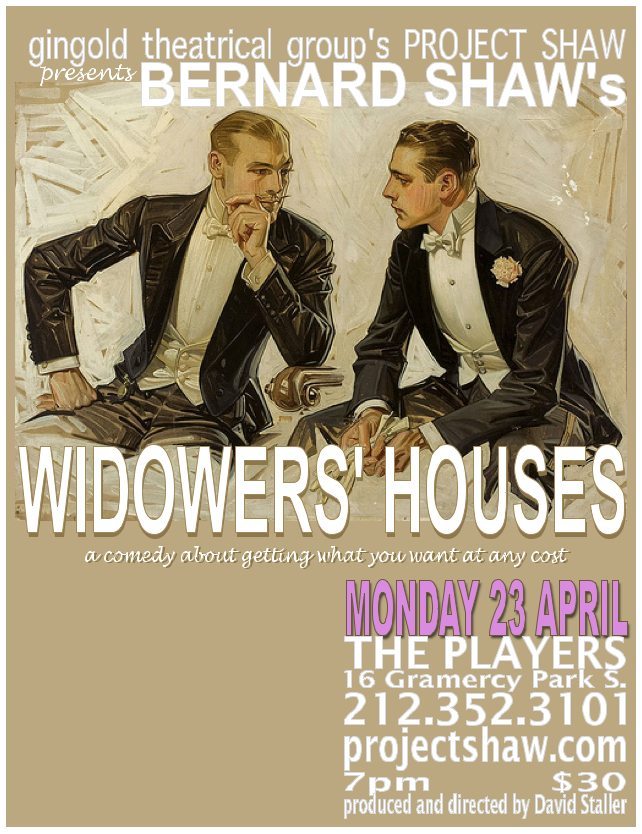 Set in 1892, Widowers' Houses is a hilarious yet scathing look at the ethics of making money. When a young doctor learns that his future father-in-law has earned his wealth by renting slum housing to the poor, the doctor refuses the dirty dowry that awaits him. But he must reconsider his righteous stance when he discovers alarming news about the source of his own income. Don't miss this rare opportunity to see George Bernard Shaw's first play – the one that launched his career as one of the wittiest and most widely produced writers of his generation.
Shaw's first completed play!
A comedy of sex, power…and real estate.
Begun in 1885 by George Bernard Shaw, laid aside,  and finished in 1892.
Cast:
Dr. Harry Trench – Mr. Bobby Steggert
Cockane – Mr. Jeremy Webb
Sartorius – Mr. Richard Easton
Lickcheese – Mr. Robert Petkoff
Blance – Ms. Mara Davi
Annie (Parlourmaid) – Ms. Katherine Kellgren
Narrator / Waiter – Mr. David Cote of TIME OUT NEW YORK and NY1
Evening hosted by Ms. Donna Karger of NY1
Directed and produced by David Staller
Photos
Click an image to enlarge it.