December 21, 2015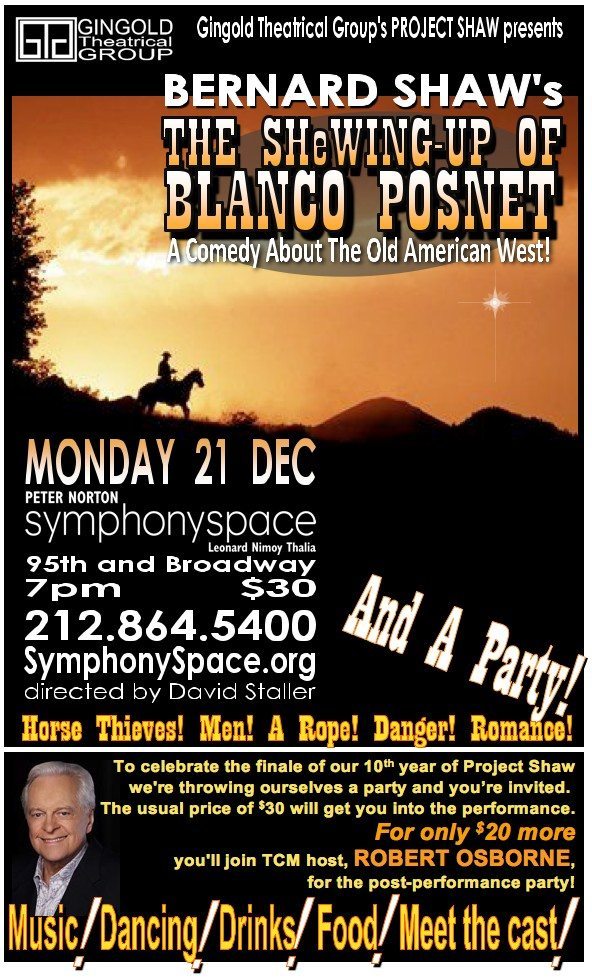 The Shewing-Up of Blanco Posnet, written in 1909, is Shaw's rollicking tale of the Old American Wild West!  It's a rarely seen mystery/comedy of an outsider accused of being a horse thief and is on the verge of being strung up  when a mysterious woman appears.
Scene: A Town Hall in a Territory of the United States of America
Time: Before places like Wyoming were states
Cast:
Babsy …  Ms. Andrea Dora
Hannah … Ms. Mia Katigbak
Jessie …  Ms. Marylee Martin Terrano
Eder Daniels …  Mr. James Monroe Iglehart
Blanco Posnet …  Mr. William DeMeritt
Strapper Kemp … Mr. Alex Coelho
Feemy Evans …  Ms. Mirirai Sithole
Sheriff Kemp …  Mr. Raphael Nash Thompson
Nestor …  Mr. Everett Quinton
The Woman … Ms. Sheria Irving
Wagonner Jo …  Mr. Ken Glickfeld
Fiddler …  Mr. James Cleveland
Narrator …  Mr. Aaron Lee Battle
Photos
Click an image to enlarge it.