February 24, 2014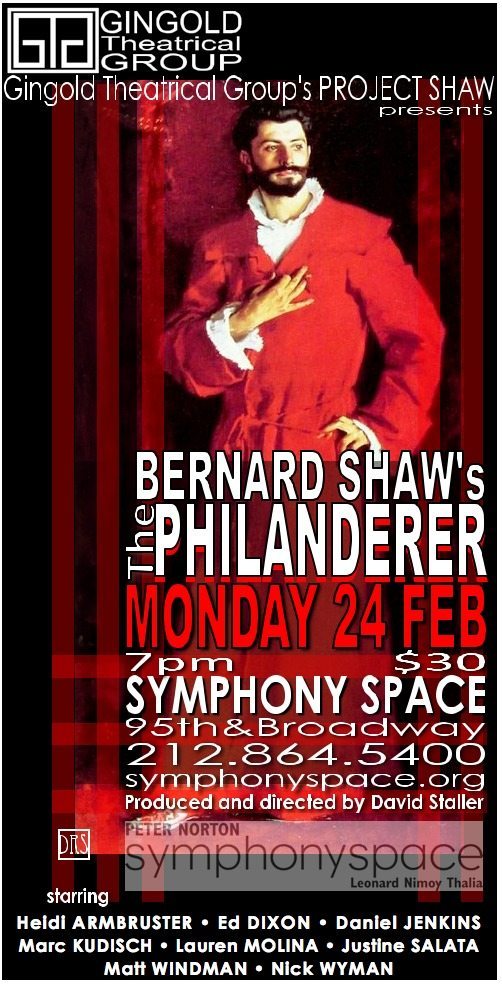 The Philanderer is a wickedly witty comedy which takes on most of the classic Shaw issues: questioning societal expectations, sex, relationships, sense of self, science, religion and politics: all in about two hours playing time. The play follows a day in the life of a roguish gentleman doing his best to avoid making a commitment to either of the two women who may or may not actually want him to.
ACT I: Mr. Joseph Cuthbertson's Flat in Ashley Gardens.
ACTS II & III: The Library of the Ibsen Club in Cork Street.
ACT IV: Dr. Paramore's Rooms in Savile Row.
Period: During the first vogue of Ibsen in London, after 1889.
A topical comedy in four acts of the early Eighteen-Nineties
Written by George Bernard Shaw in 1893
Cast:
Leonard Charteris  … Mr. Marc Kudisch
Mrs. Grace Tranfield  … Ms. Heidi Armbruster
Julia Craven … Ms. Lauren Molina
Colonel Daniel Craven, V.C. … Mr. Daniel Jenkins
Joseph Cuthbertson … Mr. Nick Wyman
Sylvia Craven … Ms. Justine Salata
Dr. Paramore … Mr. Ed Dixon
Narrator / The Club Page … Mr. Matt Windman
Photos
Click an image to enlarge it.