November 24, 2014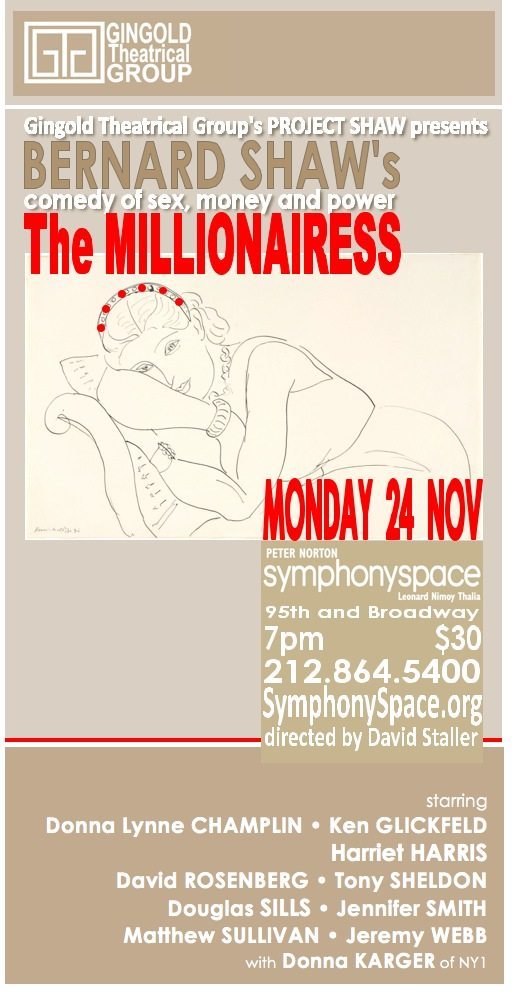 The Millionairess is Shaw's most madcap comedy. The richest woman in the world has everything but…what? After an encounter with a mysterious Egyptian doctor, The Millionairess embarks on a life-changing journey through lawyers offices, sweat-shops, and out of the way hotels, finally confronting herself in surprising ways.
Cast:
Epifania Fitzfassenden … Ms. Harriet Harris
Julius Sagamore … Mr. Matthew Sullivan
Alastair Fitzfassenden … Mr. Jeremy Webb
Patricia Smith … Ms. Donna Lynne Champlin
Adrian Blenderbland … Mr. Tony Sheldon
Doctor Ahmed el Kabir … Mr.  Douglas Sills
Joe …  Mr. Ken Glickfeld
Mrs. Joe  … Ms. Jennifer Smith
The Manager …  Mr. David Rosenberg
Narrator …  Ms. Donna Karger
Photos
Click an image to enlarge it.