April 25, 2016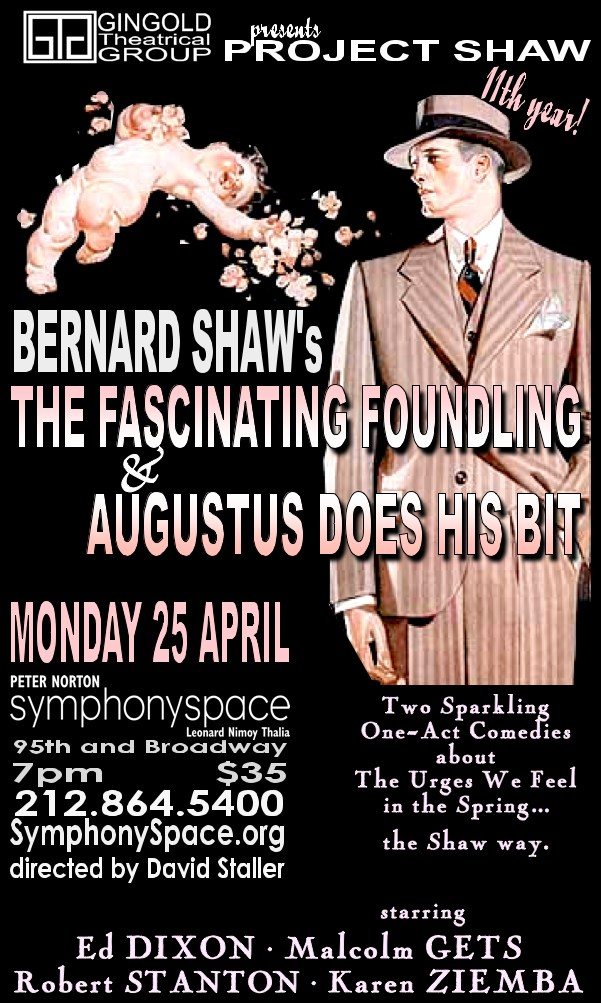 In Shaw's short comedy, The Fascinating Foundling, an elegant gentleman enters the office of the Lord Chancellor. As an orphan who was a ward of the court, he expects the Chancellor to behave as the father of all orphans who are wards of court and to find him a suitable wife: someone to mother him. A charming Suffragette, who has recently been released from prison, arrives demanding a husband she can dominate. And so does love bloom in Shaw's world.
In Augustus Does His Bit, a little satirical piece written during WWI, Lord Augustus Highcastle learns that a female spy is after an important document in his possession. A glamorous woman visits him. Is she the spy? Will she get that document? The finale of this play just may surprise you!
Our cast will include the remarkable Ed Dixon, Malcolm Gets, Robert Stanton and Karen Ziemba!
THE FASCINATING FOUNDLING
Written in 1909
Cast:
Horace Brabazon … Mr. Malcolm Gets
Mercer … Mr. Ed Dixon
Lord Chancellor … Mr. Robert Stanton
Anastasia Vuilliamy … Ms. Karen Ziemba
AUGUSTUS DOES HIS BIT
Written in 1916
Cast:
Lord Augustus Highcastle … Mr. Robert Stanton
Horatio Floyd Beamis … Mr. Ed Dixon
A Lady … Ms. Karen Ziemba
Photos
Click an image to enlarge it.