June 18, 2012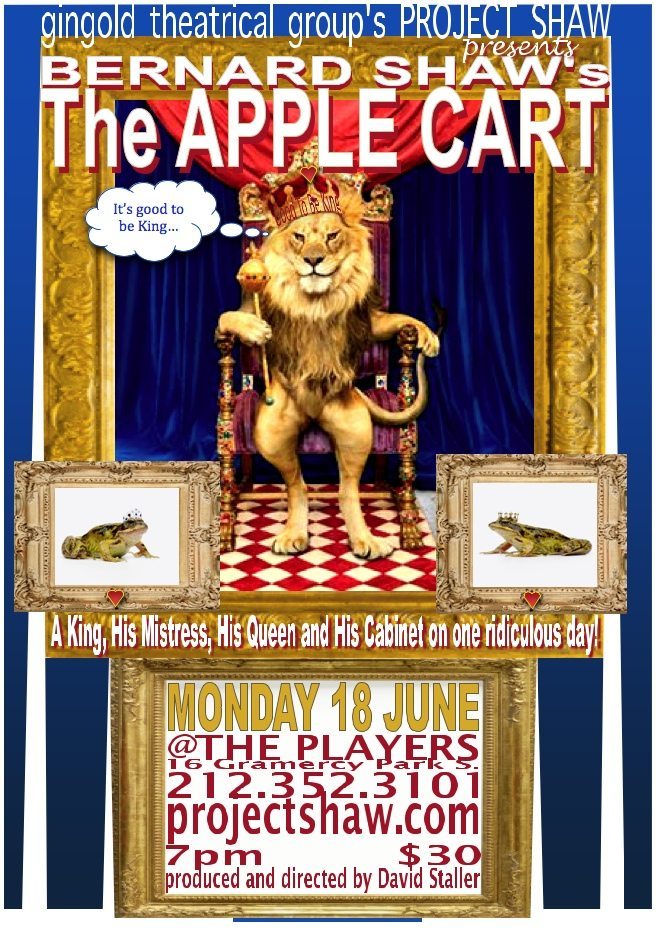 Shaw's 1929 farcical comedy does everything possible to tickle us. English King Magnus has quite a day on his hands. His Cabinet, headed by a devious Prime Minister, wants him dethroned. His extravagantly volatile mistress and his extremely ambitious Queen both have their grip on him. And then, the American Ambassador arrives announcing the Grand Plan to colonize Britain. It's all part of the Royal game, pitting Magnus against the Fates to do whatever he can to not upset THE APPLE CART.
Written by Bernard Shaw in 1929.
Cast:
Semphronius – Mr. A.J. Shively
Pamphilius – Mr. Scott Schafer
Boanerges – Mr. Jim Brochu
King Magnus – Mr. Patrick Page
Proteus – Mr. John Plumpis
Nicobar – Mr. James Prendergast
Crassus – Mr. Gibson Frazier
Balbus – Mr. Jack Koenig
Amanda – Ms. Marianne Tatum
Lysistrata –  Ms. Robin Leslie Brown
Orinthia – Ms. Alison Fraser
The Queen – Ms. Alison Cimmet
Vanhattan – Mr. Ron McClary
Narrator – Ms. Nora Chester
Produced and directed by Mr. David Staller
Photos
Click an image to enlarge it.