November 19, 2012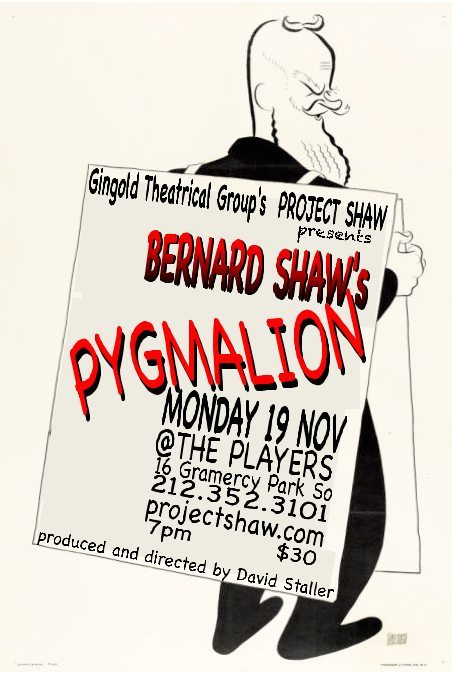 Professor of phonetics, Henry Higgins, makes a bet that he can train a bedraggled Cockney flower girl, Eliza Dolittle, to pass for a duchess at an ambassador's garden party by teaching her to assume a veneer of gentility, the most important element of which, he believes, is impeccable speech. This play is a sharp lampoon of the rigid British class system of the day and a comment on women's independence packaged as a high-spirited comedy.
Written by Bernard Shaw in 1912.
Cast:
Mrs. Eynsford-Hill…Ms. Robin Leslie Brown
Clara Eynsford-Hill…Ms. Emily Taplin Boyd
Bystander / Footman…Mr. Ian Gould
Freddy Eynsford-Hill…Mr. Zachary Spicer
Eliza Doolittle…Ms. Ana Reeder
Colonel Pickering…Mr. Daniel Jenkins
Henry Higgins…Mr. Reg Rogers
Mrs. Pearce…Ms. Cynthia Darlow
Alfred Doolittle…Mr. Daniel Davis
Mrs. Higgins…Ms. Cynthia Harris
Narrator…Mr. Michael Musto (of the VILLAGE VOICE)
Guest Host…Mr. Terry Teachout (of the WALL STREET JOURNAL)
Photos
Click an image to enlarge it.