May 18, 2015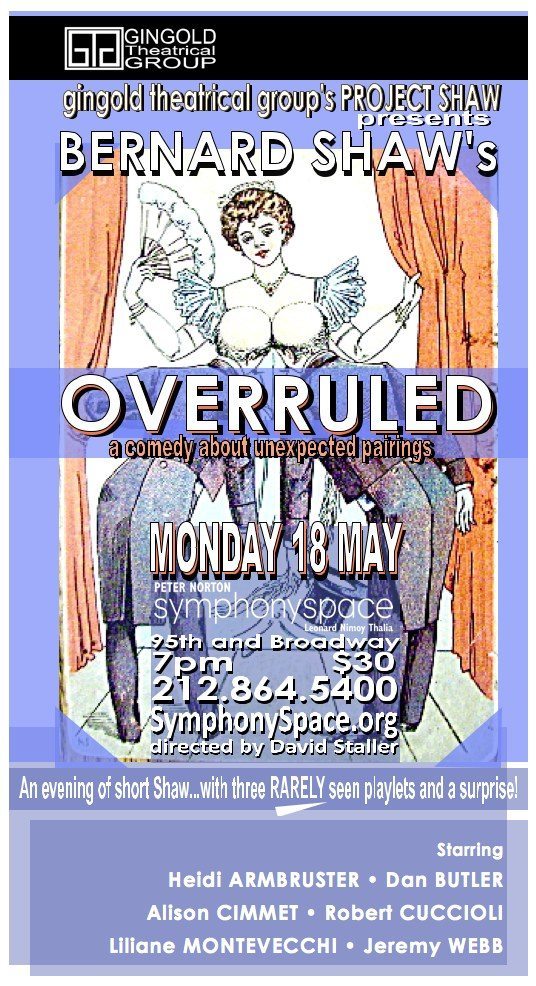 Our May PROJECT SHAW included five briskly amusing little plays, all of them rarely seen anywhere and one world premiere. The story of Overruled follows two couples. Each pair has decided to take a trip away from their mate, to go around the world to reawaken their romance when they reunite. On the journey, each meets the partner of the other couple with surprising results.
OVERRULED
A play from 1912 in which two couples are determined to find romance…but not with each other.
Lunn…Mr. Robert Cuccioli
Juno…Mr. Dan Butler
Mrs. Juno…Ms. Alison Cimmet
Mrs. Lunn…Ms. Heidi Armbruster
ARTHUR AND THE ACETONE
A little play from 1936 in which the concept of the creation of the state of Israel is examined.
Arthur…Mr. Jeremy Webb
Attache…Mr. Dan Butler
Dr. Weizmann…Mr. Robert Cuccioli
THE KING, THE CONSTITUTION AND THE LADY
A playlet from 1936 about the abdication of the King for Mrs. Wallis Simpson
The King…Mr. Jeremy Webb
The Archbishop…Mr. Robert Cuccioli
The Prime Minister…Mr. Dan Butler
BEAUTY'S DUTY
A short play from 1913 that examines how people can justify their infidelities
A Solicitor…Mr. Robert Cuccioli
A Client…Mr. Dan Butler
UN PETIT DRAME
A world premiere of an English translation of Shaw's first  (1884) play, written in French while he was in his 20s!
Translation and adaptation by Liliane Montevecchi and David Staller
Narrator…Ms. Liliane Montevecchi
Colette…Ms. Heidi Armbruster
Madame Malade…Ms. Alison Cimmet
Dr. Harry…Mr. Dan Butler
Photos
Click an image to enlarge it.