July 22, 2013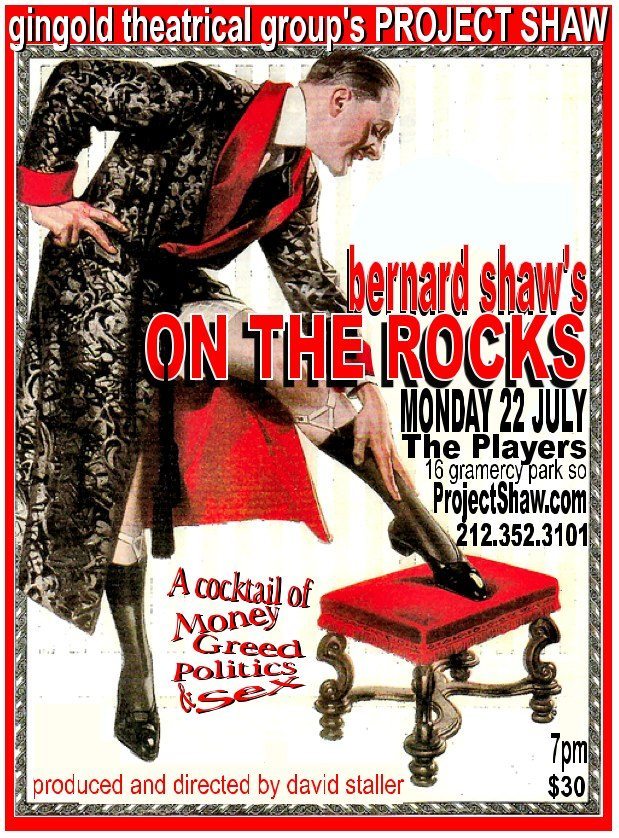 A heart-warming cocktail about money, greed, politics and sex. This viciously witty comedy tackles, head-first, the unthinkable concept of a country in the midst of an economic depression. Unemployment, health care, human rights…you name it. It's a riotous cast of character, assembled as only possible in the always-surprising imagination of G.B.S.
Written by George Bernard Shaw in 1933.
Cast:
Sir Arthur Chavender – Mr. Jonathan Hadary
Hilda Hanways – Ms. Alison Cimmet
Sir Broadfoot Basham – Mr. Merwin Goldsmith
Miss Flavia Chavender – Ms. Andrea Lynn Green
Lady Chavender – Ms. Karen Ziemba
David Chavender – Mr. Michael McDonald
Mayor Tom Humphries – Mr. Michael Selkirk
Aloysia Brollikins – Ms. Justine Salata
Viscount Barking – Mr. A.J. Shively
Alderman Blee – Mr. Ron McClary
Mr. Hipney – Mr. George S. Irving
The Lady (and also the Narrator) – Ms. Diane Stilwell Weinberg
Sir Dexter Rightside – Mr. Jack Gilpin
Admiral Sir Bemrose Hotspot – Mr. Robert Stanton
Mr. Glenmorison – Mr. Matthew Sullivan
Sir Jafna Pandranath – Mr. James Rana
The Duke of Domesday – Mr. Marc Vietor
Produced and Directed by Mr. David Staller
Photos
Click an image to enlarge it.