April 6, 2015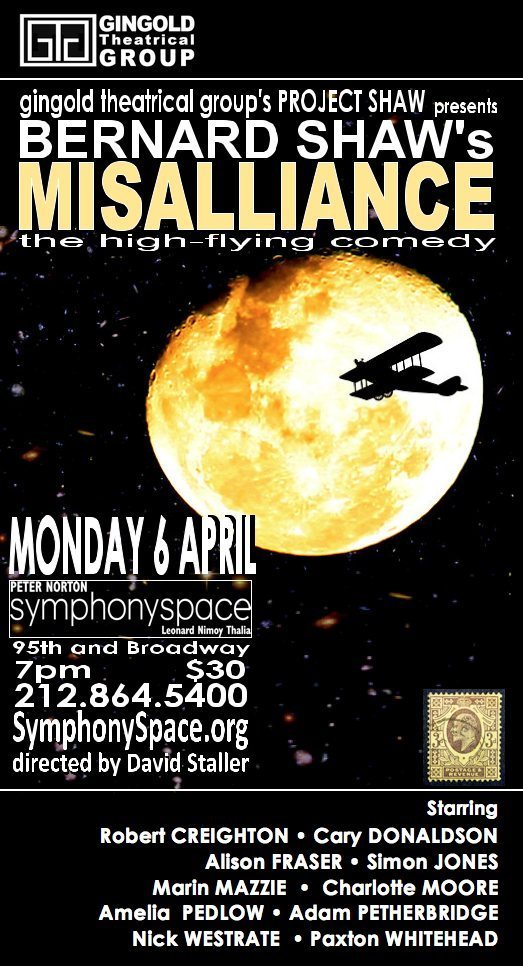 In MISALLIANCE, Shaw examines a variety of unsuitable combinations. The social and the political collide with the romantic and the practical; convention clashes with innovation; parents spar with children and the kids let the elders have it in return; the aristocrats mate uncomfortably with the merchant class, and-to top it all off there's a lady aviatrix and a  gun-toting socialist loose on the grounds!
One of Shaw's most sparking comedies!
Cast:
Narrator – Ms. Charlotte Moore
Johnny Tarleton – Mr. Cary Donaldson
Bentley "Bunny" Summerhays – Mr. Adam Petherbridge
Lord Summerhays – Mr. Simon Jones
Hypatia Tarelton – Ms. Amelia Pedlow
Mrs. Tarleton – Ms. Alison Fraser
John Tarleton – Mr. Paxton Whitehead
Joseph Percival – Mr. Nick Westrate
Lina Szczepanowska – Ms. Marin Mazzie
Julius "Gunner" Baker – Mr. Robert Creighton
Photos
Click an image to enlarge it.