January 28, 2013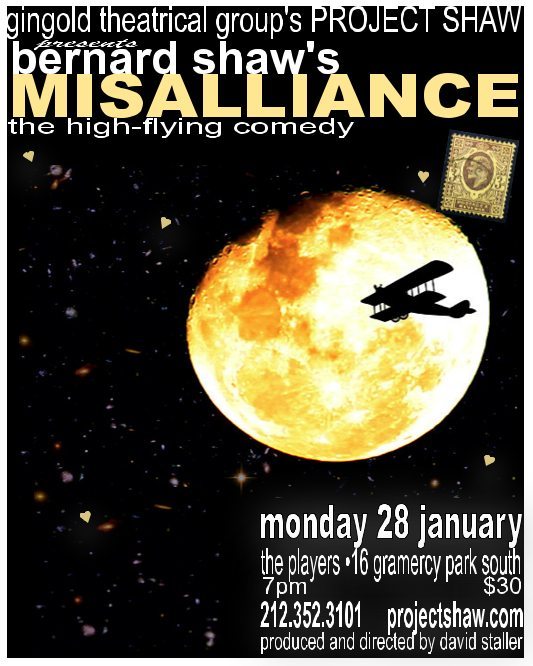 In MISALLIANCE, Shaw examines a variety of unsuitable combinations. The social and the political collide with the romantic and the practical; convention clashes with innovation; parents spar with children and the kids let the elders have it in return; the aristocrats mate uncomfortably with the merchant class, and-to top it all off there's a lady aviatrix and a  gun-toting socialist loose on the grounds!
One of Shaw's most sparking comedies!
Written by Bernard Shaw in 1910.
Cast
Narrator – Ms. Maggie Buchwald
Johnny Tarelton – Mr. Jon Fletcher
Bentley Summerhayes – Ms. Wesley Taylor
Lord Summerhayes – Mr. Richard Easton
Hypatia Tarelton – Ms. Hannah Cabell
Mrs. Tarelton – Ms. Maryann Plunkett
John Tarelton – Mr. George S. Irving
Joseph Percival – Mr. Patrick Cummings
Lina Szczepanowska – Ms. Alison Fraser
Julius Baker – Mr. Robert Creighton
Evening hosted by Mr. David Cote of TIME OUT NEW YORK and NY1
Produced, adapted and directed by Mr. David Staller
Production Stage Manager Mr. Nathan K. Claus
Photos
Click an image to enlarge it.