November 23, 2015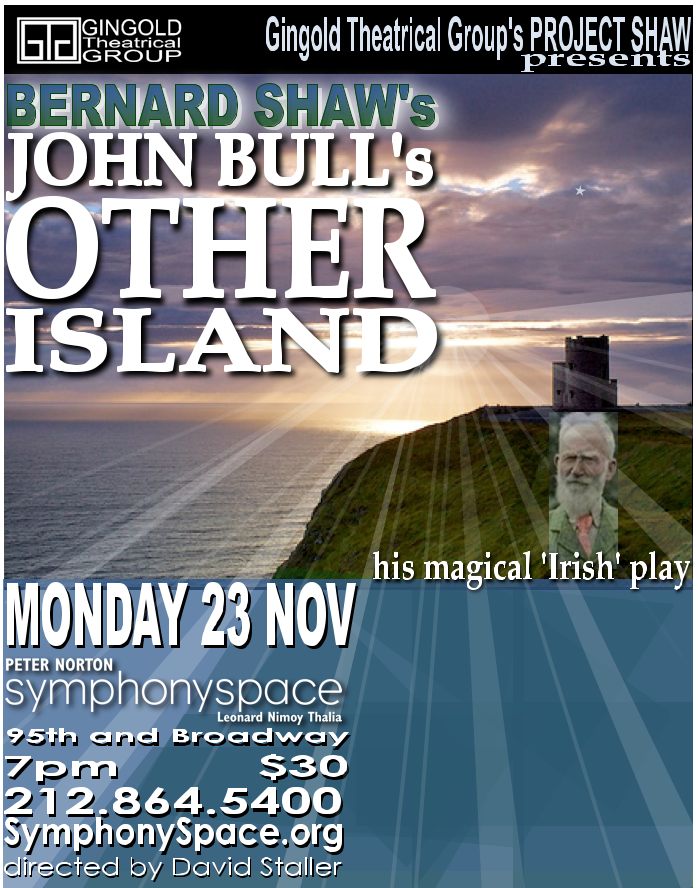 This is Shaw's legendary "Irish play", rarely seen. It's a sparkling and surprising comedy.
Written in 1904.
First performance on November 1, 1904 at the Royal Court Theatre, London
ACT I:
Office of Broadbent and Doyle, Civil Engineers, Great George Street, Westminster.
ACT II:
Scene I: Rosscullen Hill
Scene II: The Round Tower
ACT III:
The Grass Plot before Corney Doyle's House.
ACT IV:
Scene I: The Parlour at Corney Doyle's.
Scene 2: Rosscullen Hill.
Cast:
Tom Broadbent—Robert Cuccioli
Larry Doyle—Sean Dugan
Hodson—Warren Kelley
Tim Haffigan—Jonathan Hadley
Keegan—Patrick Fitzgerald
Patsy Farrell—Adam Petherbridge
Father Dempsey—Sean Gormley
Corney Doyle—Paul O'Brien
Barney Doran—Robert Creighton
Matthew Haffigan— Drew McVety
Aunt Judy—Terry Donnelly
Nora—Mara Davi
Narrator—Malachy McCourt
Photos
Click an image to enlarge it.