June 20, 2016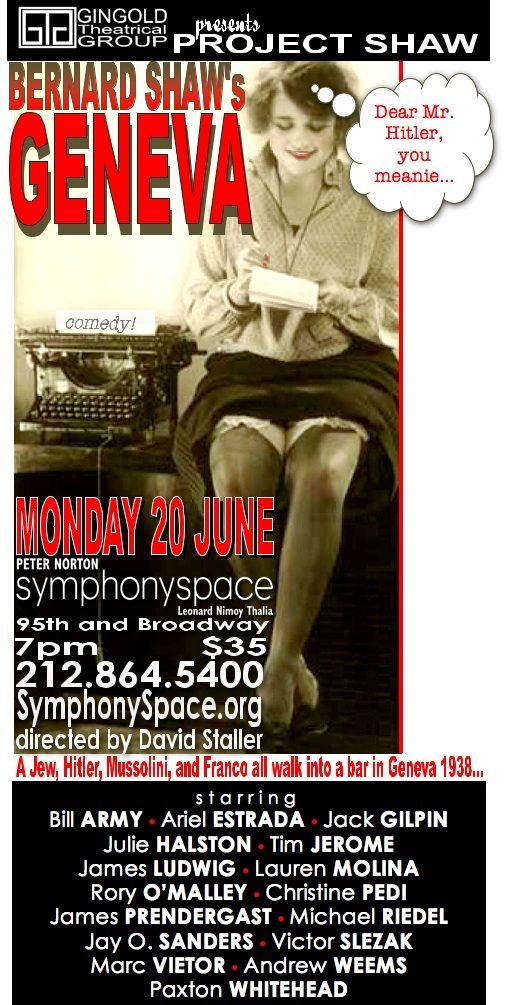 This political comedy, written as the world was on the precipice of WWII, opens as a young Jew arrives in Geneva demanding that something be done about the oppression of the Jews in Germany. Since the lowly secretary he encounters is unable to interest anyone in helping out, she undertakes to tackle the problem herself. This results in visits from none other than Hitler, Mussolini and Franco!
World events were happening at such an alarming rate that Shaw was kept busy trying to keep this play up to date. He finally gave up, and simply let the world play out its story, so what we have here is the world teetering on the brink. It's before Germany invaded Poland. Most heads of state were still hoping to avoid becoming involved in another war. Shaw wrote that he was sure critics would complain that he had "not addressed all the burning political problems of the present and future and restored peace to Europe and Asia. The utmost I or any playwright can do is to extract comedy and tragedy from the existing situation and wait to see what will become of it."  As usual, he does.
Cast:
Narrator … Mr. Ariel Estrada
Begonia Brown … Ms. Lauren Molina
The Jew …  Mr. Rory O'Malley
The Newcomer … Mr. James Ludwig
The Widow …    Ms. Julie Halston
The Journalist … Mr. Michael Riedel
The Bishop  …  Mr. James Prendergast
Commisar Posky  … Mr. Tim Jerome
The Secretary …  Mr. Marc Vietor
Sir Orpheus Midlander … Mr. Paxton Whitehead
The Betrothed … Mr. Bill Army
The Judge …  Mr. Jay O. Sanders
Bombardone … Mr. Victor Slezak
Battler …  Mr. Jack Gilpin
General Flanco …  Mr. Andrew Weems
Deaconess … Ms. Christine Pedi
Scene I: The Office of the International Institute for Intellectual Co-operation
Scene II:  Office of the Secretary of the League of Nations.
Scene III:  A Salon in the Old Palace of The Hague
TIME: The Present, 1938
Photos
Click an image to enlarge it.