June 22, 2015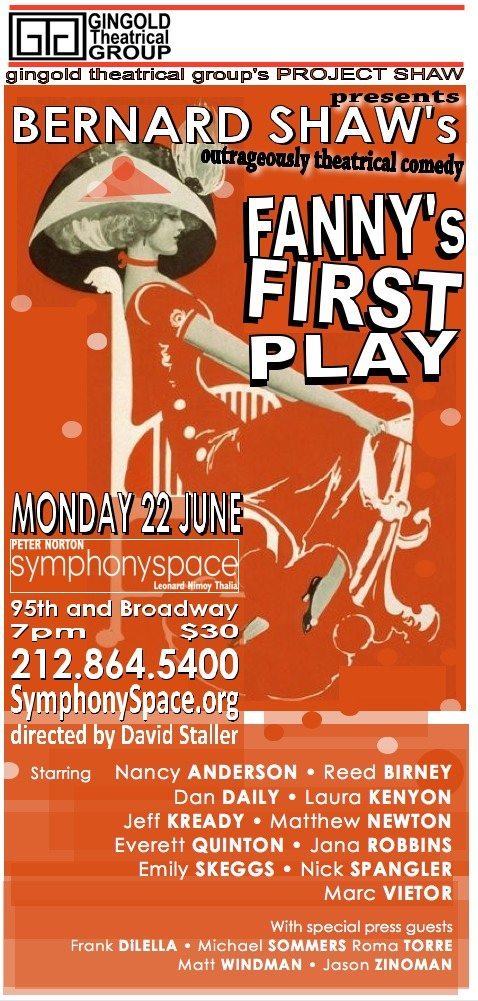 A light-hearted romp that takes a comedic look at the the colorful world of the theatre and those who inhabit it. FANNY'S FIRST PLAY, a satire of the theater and the critics who circle it, whose characters were based upon Shaw's own detractors, features a play within a play. Originally, Shaw had the play produced without letting anyone know who actually wrote it. Ironically, this rarely seen 1911 play was Shaw's first real commercial success, which he finally admitted to writing. The plot involves the daughter of a man who refuses to live in the present. She writes an incendiary play, anonymously, and invites a group of critics to review it. For this performance, the four critics in the play will be portrayed by four New York theatre critics.
THE INDUCTION
In a Country House in Cambridge, taken for the occasion by Count O'Dowda.
THE PLAY
ACT I: Mr. Robin Gilbey's Dining Room, Denmark Hill.
ACT II: Mr. Joseph Knox's Drawing Room in the same Neighbourhood.
ACT III: Again in Mr. Gilbey's Dining Room.
THE EPILOGUE
As in the Induction
TIME: The Present, 1911
Cast:
Narrator … Ms. Roma Torre
Juggins … Mr. Matthew Newton
Cecil Savoyard … Mr. Marc Vietor
Count O'Dowda … Mr. Reed Birney
Fanny O'Dowda … Ms. Emily Skeggs
The Theatrical Critics:
Mr. Trotter  … Mr. Michael Sommers
Mr. Vaughan  … Mr. Frank DiLella
Mr. Gunn  … Mr. Jason Zinoman
Flawner Bannal  … Mr. Matt Windman
Fanny's Play:
Robin Gilbey  … Mr. Dan Daily
Bobby  … Mr. Jeff Kready
Mrs. Gilbey  … Ms. Jana Robbins
Dora Delaney  … Ms. Nancy Anderson
Mrs. Knox  … Ms. Laura Kenyon
Joseph Knox  … Mr. Everett Quinton
Lieutenant Duvallet  … Mr. Nick Spangler
Margaret Knox  … Ms. Emily Skeggs
Photos
Click an image to enlarge it.