October 22, 2012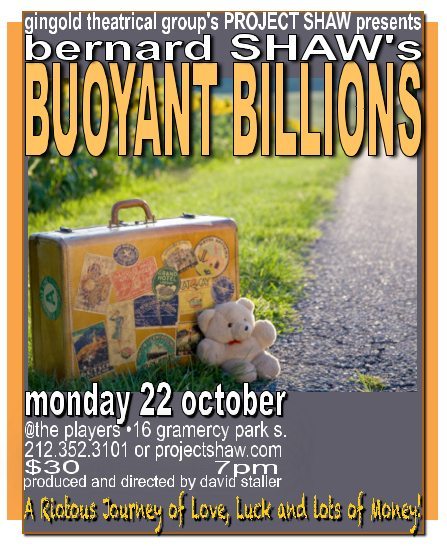 Only in dreams my prime returns
And my dead friends forsake their urns
To play with me the queerest scenes
In which we all are but have-beens.
My billions are no longer buoyant
Nor my polemics so foudroyant;
So lest you disappointed be
Let Clare depict my Me and She.
BUOYANT BILLIONS, one of Shaw's wittiest and least known plays, written towards the end of his very long life. The plot: after WWII, a rich young man decides to venture forth into the world and become a professional 'world betterer.' Along the way he meets a rich young saxophone-playing heiress who treats him so dreadfully that he becomes fascinated by her…and her entire peculiar family.
Written by Bernard Shaw in 1948.
Cast:
Junius – Mr. Hunter Foster
His Father – Mr. Lenny Wolpe
Clementina Buoyant – Ms. Jennifer Cody
Bayano – Mr. William DeMeritt
The Chinese Priest – Mr. Henry Yuk
Sir Ferdinand Flopper – Mr. Victor Slezak
Tom Buoyant – Mr. George Dvorsky
Eudoxia Emily – Ms. Andrea Lynn Green
Dick Buoyant  – Mr. Drew McVety
Julia Buoyant – Ms. Margaret Loesser Robinson
Mrs. Harry – Ms. Karen Stanion
Frederick – Mr. Stephen James Anthony
Bastable 'Old Bill' Buoyant – Mr. Hal Robinson
Narrator – Mr. Mark Waldrop
Produced and directed by David Staller
Photos
Click an image to enlarge it.