September 3, 2013 - October 13, 2013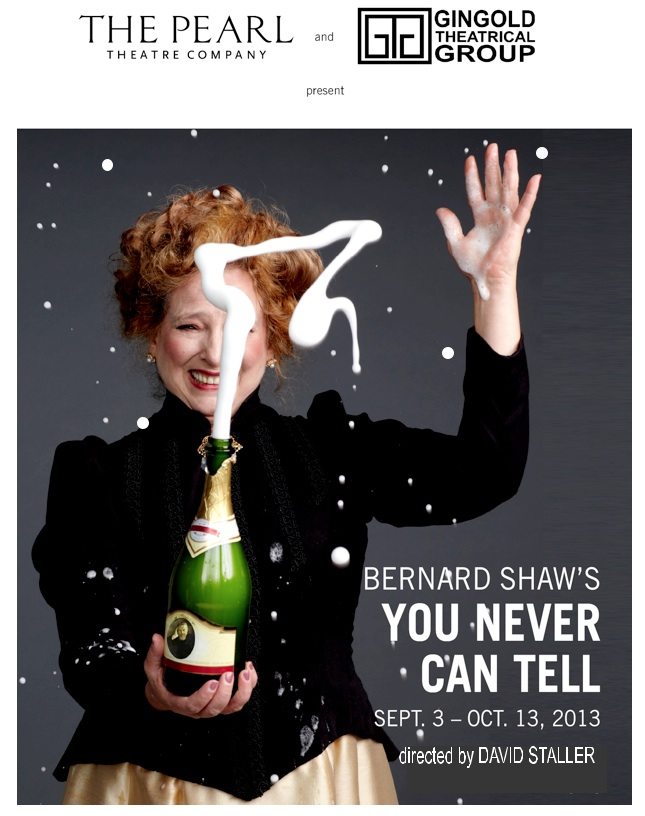 This rarely seen and much-loved Shavian classic is a champagne toast to romance and comedy.  It's the turn of the 20th century and a world famous author and her grown children have returned to England after eighteen years abroad. But when her missing husband (who may also be the missing father) appears out of the blue, this fascinating troupe face love, family, money, sex, social and political issues, women's rights–and the dangers of dentists in love. Shaw's whimsical wit whirls us into a world where sweeping change has unexpected comic consequences.
The cast of You Never Can Tell featured Pearl Resident Acting Company (RAC) founding member Robin Leslie Brown as Mrs. Clandon, Pearl RAC member Bradford Cover as Fergus Crampton, Pearl RAC member Dominic Cuskern as Finch McComas, Pearl RAC member Dan Daily as Walter Boon, and Obie Award-winner and Pearl RAC member Sean McNall as Mr. Valentine, along with Ben Charles as Philip Clandon, Amelia Pedlow as Gloria Clandon, Zachary Spicer as Walter Bohun and Emma Wisniewski as Dolly Clandon.
The creative team included David Staller (Director), Harry Feiner (Sets), Barbara A. Bell (Costumes), Stephen Petrilli (Lighting), M. L. Dogg (Sound), Kate Farrington (Dramaturg) and April Kline (Production Stage Manager).
PRESS
"Under the direction of David Staller, Sean McNall, as a penniless dentist, and Amelia Pedlow, as the eldest Clandon child, provide a particularly intriguing Beatrice-and-Benedick-style battle of wits-cum-flirtation that is both of the age and ageless."– THE NEW YORKER
"In every way, the production realized a level of excellence that I rarely experience in all my years of theatre-going. The substance and depth of the writing is certainly a given but the detail and nuance in the performances and Staller's understanding of the author's intent came through in riveting fashion. I left the theatre feeling very passionately about the work."– ROMA TORRE, NY1
"…a sociopolitical punch brightened by some strong performances."– NEW YORK TIMES
"…thoroughly sparkling evening…it gets just the handling it needs from director David Staller, New York's resident Shavian expert."– LIGHT AND SOUND
"Smart, witty and ahead of its time, You Never Can Tell is a welcome addition to this theatrical season."– NEXT
"You Never Can Tell is light, breezy fun…You never can tell what a night at the theater will bring you. But with David Staller's lively direction you can be pretty darn certain."– HUFFINGTON POST
"If anyone can make Shaw's early play sparkle, Staller's the man. And so he has done. This is a colorful production, rich in whimsy and musical movement that has some of the actors dancing (literally) even through the scene changes."– CURTAIN UP
"A cool ocean breeze blows through David Staller's production of Bernard Shaw's comedy You Never Can Tell. Staller's enjoyable, swift staging benefits from performances that understand the material's delicate frothiness. The characters feel surprisingly like humans (unlike in other productions of the play that I've seen). In a directorial flourish, the lighting changes for brief moments when two characters connect, either romantically or psychologically. This kind of touch rarely works, though here it does, and a lot better than it should. If you're a Shaw fan, now's your chance to see a delightful production of a play that you may have forgotten about."– THEATERMANIA
"Stupendous! The actors keep the audience roaring with laughter throughout. Elaborate sets and lavish costumes complete the production. All of these components come together to provide the perfect atmosphere for audience members to forget about the churning of traffic outside the theater's doors and lose themselves within the show's seaside resort for just a few hours."– WASHINGTON SQUARE NEWS
Production photos by Al Foote III
Photos
Click an image to enlarge it.