If you cannot get rid of the family skeleton, you may as well make it dance.
— GBS
Our 2019 Gala will be on
Saturday, March 16
at the 3 West Club!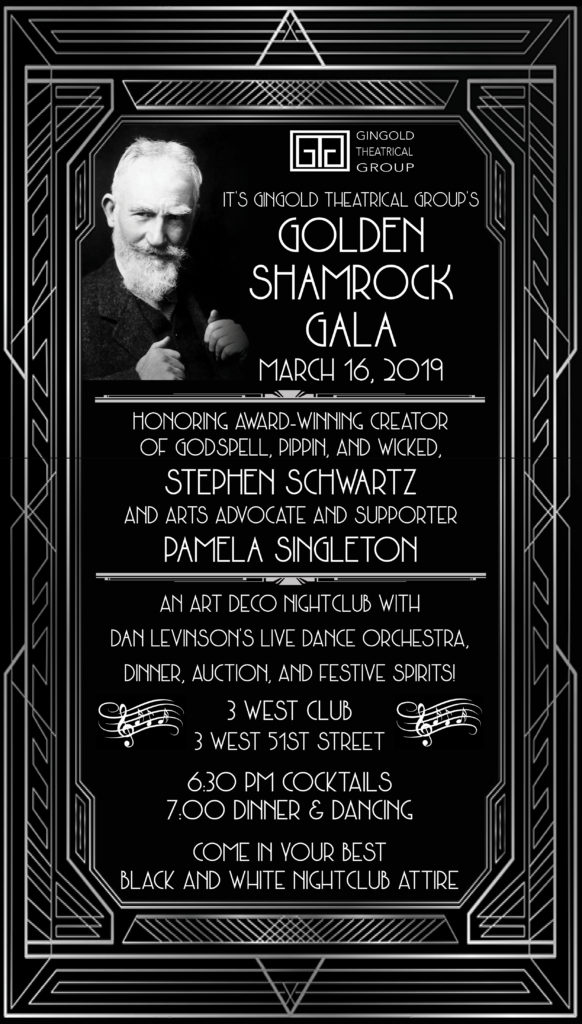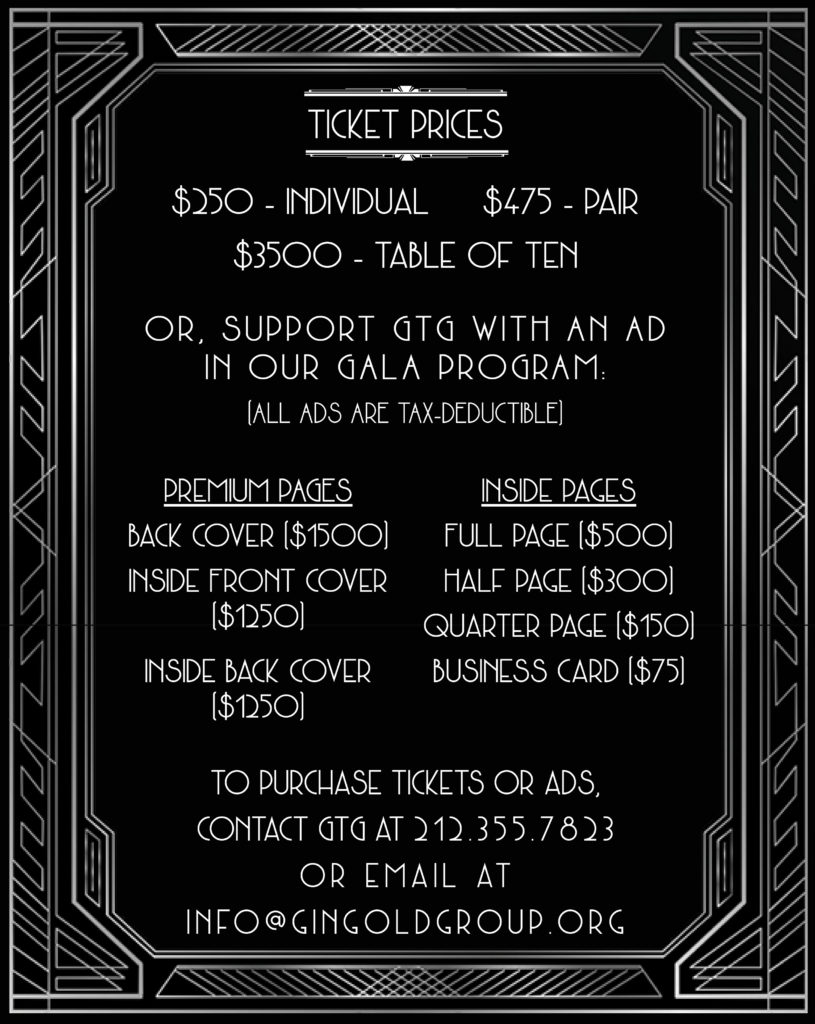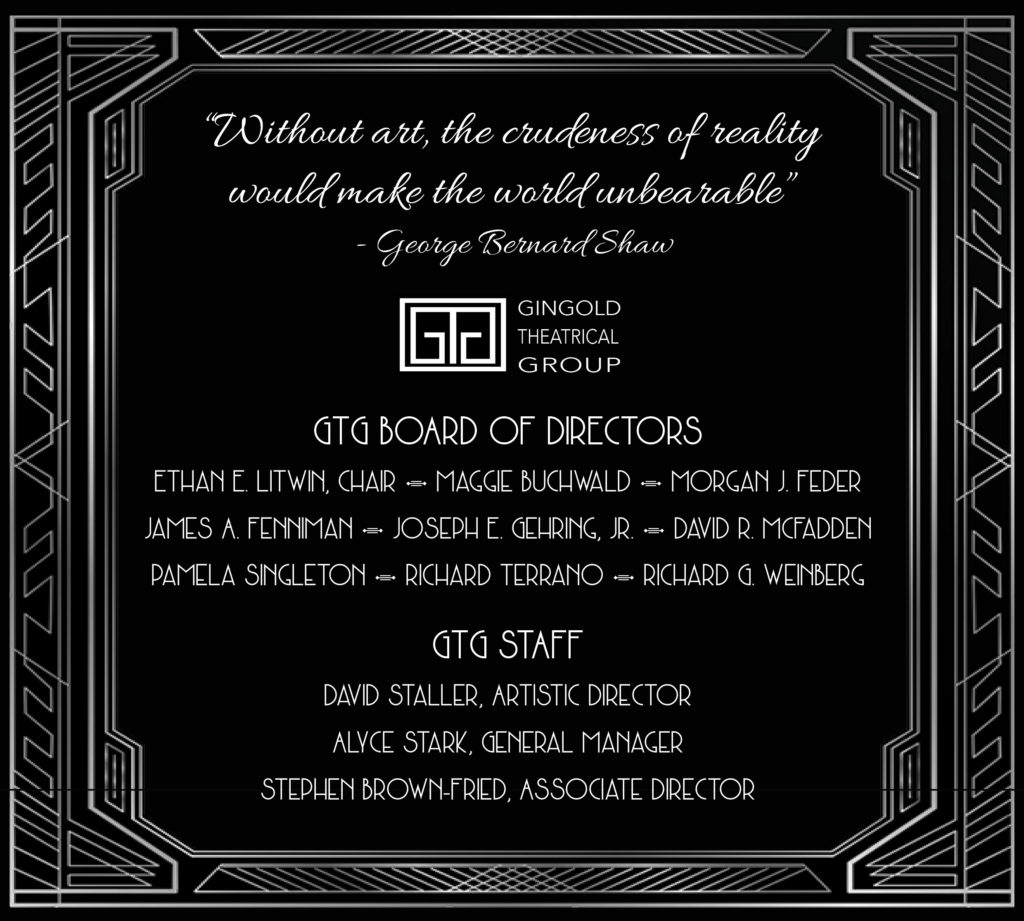 Our 2019 honorees are humanitarian and award-winning creator of Godspell, Pippin, and Wicked, Stephen Schwartz, and tireless supporter of the arts in New York, Mary Pamela Singleton, and, of course, George Bernard Shaw!
The 2019 Gala will transport attendees to a 1920s deco nightclub with a live dance orchestra!
Cocktails will begin at 6:30 with dinner and dancing at 7:00.
Single ticket $250
Pair $475
Premium Table $3500
PROGRAM ADS AT EVERY LEVEL AVAILABLE!
Performances by MELISSA ERRICO!  ALISON FRASER!  CLAYBOURNE ELDER!  and more!
For more information, or to purchase tickets, call us at 212.355.7823 or write to info@gingoldgroup.org
Music will be brought by: DAN LEVINSON DANCE ORCHESTRA
Each year, Gingold Theatrical Group celebrates Shaw's humanist ideals with our Golden Shamrock Gala.  Held on St. Patrick's Day in honor of Shaw's Irish roots, the Golden Shamrock Gala is where we present the Golden Shamrock Award in recognition of artistic or cultural contributions to society.
Featuring a sparkling cocktail hour and delectable meal, a silent auction with lots that have included rare collectibles, Broadway tickets, spa vouchers, fine wines and more, the Golden Shamrock Gala is an event not to be missed!
There is no sincerer love than the love of food.
— GBS
Stephen Schwartz wrote the music and lyrics for the current Broadway hit WICKED, and has also contributed music and/or lyrics to GODSPELL, PIPPIN, THE MAGIC SHOW, THE BAKER'S WIFE, WORKING (which he also adapted and directed), RAGS, and CHILDREN OF EDEN. He collaborated with Leonard Bernstein on the English texts for Bernstein's MASS and wrote the title song for the play and movie BUTTERFLIES ARE FREE. For children, he has written songs for two musicals, CAPTAIN LOUIE and MY SON PINOCCHIO. He has also worked in film, collaborating with Alan Menken on the songs for Disney's ENCHANTED as well as the animated features POCAHONTAS and THE HUNCHBACK OF NOTRE DAME, and writing the songs for the DreamWorks animated feature THE PRINCE OF EGYPT. His first opera, SEANCE ON A WET AFTERNOON, was produced at Opera Santa Barbara and New York City Opera. A book about his career, "Defying Gravity," has been released by Applause Books. Mr. Schwartz has been inducted into the Theatre Hall of Fame and the Songwriters Hall of Fame, and has been given a star on the Hollywood Walk of Fame. Awards include three Academy Awards, four Grammy Awards, and a tiny handful of tennis trophies. http://www.stephenschwartz.com.
Pamela Singleton, long-time board member with Gingold Theatrical Group, spent close to 35 years with Merrill Lynch, retiring as a First Vice President of the Equity Research Division.  For many years she has served on the Board of the Artists Fellowship, a foundation providing emergency aid to artists, where she is currently Treasurer, and she also served as Chairman of the Board of the Salmagundi Club.  She is currently Treasurer of the Players Foundation for Theatre Education at the legendary Players Club.  For her lifetime of community service and her philanthropic generosity, GTG is proud to honor her.
Past Recipients of the Golden Shamrock Gala Award
2018 – Martha Plimpton and Tom Viola
2017 – Tyne Daly
2015 – Kate Mulgrew and Kenneth Lonergan
2014 – Anita Jaffe and Charles Busch
2013 – Judith Ivey and Robert Osborne
2012 – Terrence McNally and Brian Murray
Photos from Past Golden Shamrock Galas